With his permission, I submit to you the front of a co-worker's vacation postcard.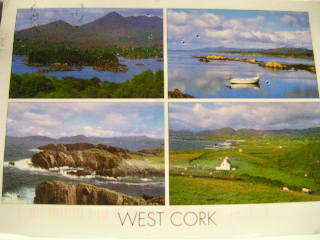 This is what it said on the back.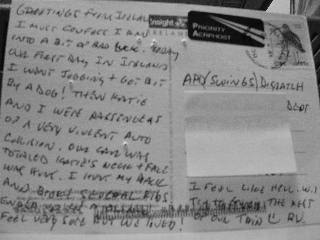 I'll make it legible:
Greetings from Ireland. I must confess I ran into a bit of bad luck. Today, our first day in Ireland, I went jogging and got bit by a dog! Then Katie and I were passengers of a very violent auto collision. Our car was totaled. Katie's neck and face were hurt. I hurt my back and broke several ribs. Feel very sore but we lived. I feel like hell. Will try to enjoy the rest of our trip.
(Update – Katie's fine now, Bob's kidneys and ribs are healing nicely.) I KNOW it's terrible, but reading it makes laugh hysterically. I'm a very bad person. Luckily Bob has a good sense of humor. It's the Very Worst Postcard Ever!
Baby-yarn ChicKami almost done. Pics this weekend. Working mad hours tonight and tomorrow and then I should get a weekend (albeit a shortened one). Fighting the cold with all my Vitamined C might.