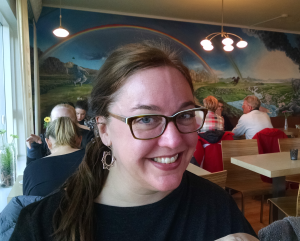 At Cafe Loki, best place in town. 
Cold: I don't know how to do cold, as much as it THRILLS me to my frostbitten toes. Half the time I was sweating, the other half I was missing some necessary parts of my clothing. On the very first day, I lost my favorite hat (only hat!) knitted out of my very first handspun yarn. Once I didn't wear tights under my skirt and almost froze off some things I prefer to keep. I kept waiting until we got outside to replace all the layers I'd taken off inside (inside the bus, inside the cafe) which wasn't ideal, but I still don't really understand the method of dressing-for-cold.
Raincoats! WHO KNEW? (Oh, you did. Of course you did.) They're awesome! Screw the umbrella, just put on the coat and go! (I literally think the last time I wore one I was about eight years old.)
Adventure pants: Ditto! I bought them because Extreme Iceland said to get some for the glacier walk. I thought I'd never wear them again, but I've already worn them three times. You get to go tumble around in the wet and have fun! I'm honestly looking forward to El Niño and winter dog hikes in California now.
The South Coast: 
We spent two days on a bus tour guided by a wonderful man named Ásgeir who had the kindest eyes I think I have ever seen. Somehow, he was able to spend two days with perfect strangers and make them believe he was excited to do it. He was darling and I want him to be my friend, and he promised if we didn't see the Northern Lights, he'd take us himself next time. I didn't see the lights, Ásgeir. When's good for you? 
Glacier hike: 
So, we get to the glacier and learn how to put on crampons (spikes for the bottoms of your boots which is so hardcore I can't even handle how awesome that is). Ásgeir teaches us how not to fall off a mountain by holding your ice axe at the ready. This makes me nervous, in a fluttery, pit-of-the-stomach way. If someone can fall off a glacier, it will probably be me.
"Take your time. Walk heavily. Pound each step."
I take the first few steps slowly to judge how the crampons hold. When my feet feel secure, I relax and move forward. Lala, behind me, has a harder time because she grew up around ice. She knows that to walk on blue ice which has flowing water underneath the cap could be dangerous and her body tells her to stop! Retreat! My body tells me to go forward, go faster, see more.
It's cold. It rains a bit. We hike out on three-thousand year old ice that has carved the area into the stunning geological landscape it is today.
The dirt in the ice is dirt the glacier has dragged off the mountains. It's where the mountains went.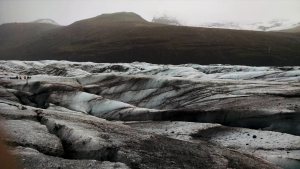 There is a tour group ahead of us in this picture. Can you find them? 
We walk into a crevasse as narrow as our shoulders and we can see INTO the ice. We are inside a massive ice cube made for a drink the size of the sun.
The second guide chips ice with his axe above us to simulate a mini-avalanche. We shriek delightedly. A sliver of ice hits my cheek and leaves a gash which I'm exceedingly proud of. (Lala says, "I've seen rock-filled snowballs hit people a million times. No one has ever BLED because of it.")
As we leave the ice a perfect 90 minutes later, Ásgeir is as lit up and excited as I am. He lives here and is still knocked out by the scenery's magnificence. I think there's nothing better than loving what you do for a living, and all I want to do is listen to him talk. I knit him a hat with local wool on the bus, but I can't weave in the ends since I have no needle in my bag. He says his mother will do it for him, but she'll be jealous another woman is knitting for him. My crush on him flutters in my chest. (Lala doesn't mind my crush. We're good that way.) This is a picture Lala took of him. You might flutter a bit, too: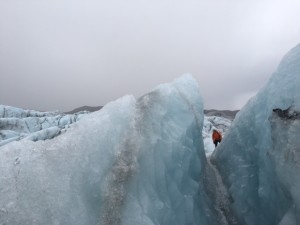 ICEBERGS: 
Are amazing. They are REALLY BLUE. I always kind of thought they were photo-filtered. But no.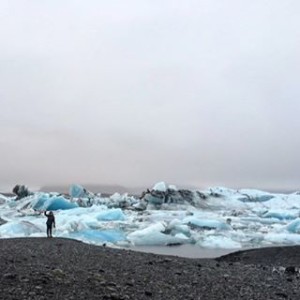 I SAY, HELLO! I can't say too much more about them because they were out of the range of imagination. I hope you get to see them, that's my wish for you.
Food: Dried fish and butter is amazing. I ate a bite of whale. I tried the shark, and dude, it wasn't as bad as Anthony Bourdain made it out to be! It smelled like death on a toothpick, but tasted like strong cheese. I wouldn't do it again, but glad I did once. Smoked trout is amazing: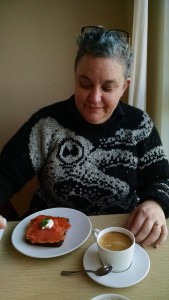 Icelandic horses. Don't call them ponies because they aren't baby horses. They're short but very strong (like me!). They have five–not the normal four–gaits: they have the very special tölt, which is a very smooth trot. I totally did it and didn't fall off. My horse and I were simpatico, and I got nuzzles afterward. Also: THEY ROLL IN THE DIRT a lot. Like border collies at the beach. Although they wait for you to dismount, which is very polite of them.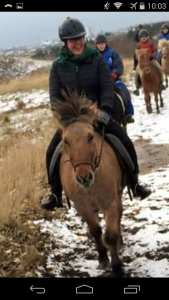 Yarn: We took a bus to Alafoss and bought yarn. A lopi for each of us is in our future. I absolutely love how every Icelander wears his Lopapyesa with pride, without irony. It is his, and he loves it, and his mother made it, and it's warm.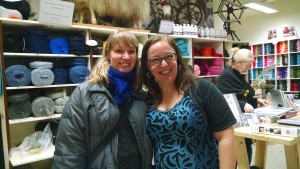 Darling Stephanie! We had such a great time with her and Rob!
HOT TUBS. 
How to behave at the public geothermal pools in Iceland.
First of all, go to the Blue Lagoon. Sure, it's expensive and crowded but worth it for the experience. Plus, SWIM-UP BAR. Life achievement unlocked. (I only had a juice but it was magical, I'm telling you.) Also, eating in Lava in your robe while most everyone else is wearing (nice) street clothes makes you feel like a rock star in the very best way: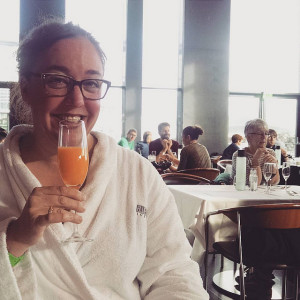 But even better than the tourist-filled geothermal waters is going to the local hot pots. They're where the community gathers, where the elders gossip and where the teens flirt. Great guide here.
We went to the Secret Pool, Lauguar Spa, Laugardalslaug, Vesturbæjarlaug and Sundhöllin. Vesturbæjarlaug was by far our favorite, with its big hot tubs and jets so strong they have handles to hang on to when in use. We went a couple of times there. Björk goes to that one, you know. It's the best.
I love this about all of the tubs we went to: people are hanging out together, being people, in their bodies. All body shapes are represented with no shame. Strangers chat naked in the shower. They chat in the baths. Tummies hang out. That woman over there has big breasts and a large bum. That guy is skinny. Everyone looks great, exactly as they should look. That ease with the body must make for a happier society, don't you think?
Two important things to know about the swimming pools: 
1 – Bathe first, naked. There's no faking this. Wash the important bits WITH SOAP: head, pits, bottom, and feet.
Use this for reference: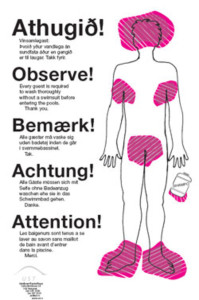 Never have I seen so many strangers scrubbing their asses so thoroughly. Americans wouldn't do this, and THAT's why we can't have nice things like non-chlorinated pools. Iceland's geothermal water is magic, and non-chlorinated, so wash, please. If you don't, an attendant will make sure you do. Then put on your suit and go out into the cold where the heated water will make you feel more alive than you've ever felt.
2 – Shower again afterward and dry off before you go into the changing room. They keep those floors dry and clean and it's so much better than the damp locker room floors I remember from high school and my old membership gym. Again, you'll be reminded if you forget to do this. I like to do things right (to an obsessive degree, I can admit this), so I enjoy knowing the rules.
Home again.
We're home, and I'm back in the swing of things. I have copyedits due this week to Random House Australia on a book that comes out next year, and NaNoWriMo starts in two days. At the day (and night) job, I've got a 73-hour shift this weekend (you may be falling back, but that means an extra hour of work for night-shifters). But I'm happy. Heart-deep happy.
And I'm so damn lucky it hurts.