I love Romi. She is literally the reason I was finally brave enough to knit lace. She kept telling me over and over again, in that calm, beautiful voice of hers, "You can do it. It's actually easy. You can totally do it."
I'm so excited that I get to give away a copy of her new book, New Lace Knitting. Details after the interview!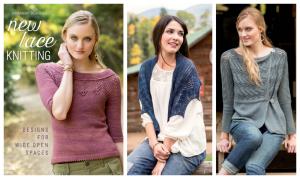 Hi, friend! I know I can't ask what your favorite design in the book is (they're all your babies) but can you tell us which was the most fun to design?
That's a difficult one! I think it's a toss-up between the Talus Cardigan and the Williwaw Cardigan. I'd been fooling around the idea for Talus for quite some time and it was so much fun to see it come to fruition. It turned out exactly as I had envisioned it, though the construction ended up a bit different than what I had initially imagined. Williwaw was just so much fun. I put all sorts of little geeky details into it – my favorite. Super fun parts: the way the pattern carries across on the back, the way the lace pattern emerges on the front asymmetric opening, the way the yarn shows stitch definition. Loved the whole process!
If you weren't a full-time knit designer, what would you be doing today?
Wow. I haven't really thought about it! Making pretty things, for sure. But what kind of pretty things? Maybe photos? Maybe I would be a writer. Potter? Glass blower? I'm not giving up knitting design any time soon though. 🙂
What's your favorite last minute oh-crap-I-have-make-dinner meal?
Believe it or not, our family has such a crazy schedule that we're hardly ever together for dinner. Older son does triathlon and has a bazillion AP classes. Younger son is an amazing trumpet player and in youth orchestra, band, and steel drum band (how cool is STEEL DRUM BAND?). So, I guess the last minute go-to would be sourdough cornbread (I am into all things sourdough) and soup. If weather permits, we'll barbeque some chicken to go with. With the soup, I cheat and do Trader Joe's Black Bean soup with beans and corn salsa added. We aren't much into dessert, but there's always some fruit around and/or ingredients for a smoothie.
Hi there!!
Oh, my goodness, you smell good. Did you just bake cookies or something? Because damn. I'm glad you're here.
And because mama loves a list:
I was sick this week with a cruddy chest and head cold and it served to remind me for the millionth time that I'm so bad at slowing down. I gave myself two days in bed, which was AGONY but it was also kind of fun. I had to do it. I wasn't in pain like I am with a migraine, so I just flopped around the bed and threw used Kleenex like soggy confetti and read. Enforced lazy reading! I can get behind that. As long as I don't have to take NyQuil anytime soon. That stuff is awful and I will never forget the dream in which my normal face melted off and I was left with a FunkoPop one.
This list thing is jacking me up and I think every single one of these is going to be #1 which is making me laugh and is just fine. You're number one, too.
While in bed, I read a book in one day, something I can't remember doing in a long time. It was LEAVING TIME by Jodi Picoult. People. If you like deep feeling books about mothers and daughters, grab it. Plus, there's a mystery. And a psychic. And gorgeous prose. AND ELEPHANTS. I loved it so much.
Now reading: Shonda Rhimes's memoir, Year of Yes, and it has to be one of the funniest books I've read since I was twelve and busting a gut over Erma Bombeck (don't judge. At twelve, my life's goal was to be a suburban housewife with four children, a husband, and a talent for cooking soufflés. I reveled in the Ladies Home Journals I boosted from the wineries my parents visited). Anyway, Shonda deserves to rule Thursday night (she's the creator of Grey's Anatomy, Scandal (WHICH I LOVE but am behind in), and How to Get Away with Murder (which I haven't tried yet).  I'm finding myself rereading pages just to see how she fits all the funny in. It's her voice, but it's also her timing, all of which comes across even on a sterile e-reader screen.
There's a lot of shit happening in this world. Hug someone you love. Kiss someone, too. Vote. Protest. Send letters. Talk to your friends. (Oh! Recently we saw W. Kamau Bell speak and, in answer to "What can allied white people do to try to help this broken, systemically racist country?" he said, "Talk to your white friends. Have difficult, awkward conversations. Then do it some more." Keep talking, friends.)
Also: Fuck Trump, painting almost ONE THIRD of the world as less-than, other, and criminal.
Trello. It's an app/website for project management, and it's free, and it's apparently everything I ever wanted. I love my Bullet Journal but my life with two full-time jobs and a part-time volunteer job has exploded past paper lists. My Moleskine journal croaks in fear when I enter my office. Trello makes it all pretty and I want to smooch it with all the smooches I have.
Except for some that I will save for The Smartyboo. <– WHY have I never called her this before, WHY?
Speaking of two jobs, I gotta say that I've been working two full-time gigs now since 2008. And that's cool. Most of the time I've got the energy for both. I've been published since 2010, and I just turned in my tenth contracted book. 2016 will be a year of lots of things for you to read by me, should you happen to enjoy that sort of thing.
Speaking of writing, I love sending out my tinyletter email. This isn't a plug for you to join it (though it would be great if you did) but I think I'm going to backdate and post my missives here (so now you don't actually have to) because in them, I'm as real as I am here at the blog, and honestly, I use the blog as a way to remember things. Those emails feel important to me. I'm glad so many of you are getting so much out of them. I love your email responses. They're like secret blog comments that only I can read. Delicious.
Patreon. Damn. Humbled. Thank you.
I've been knitting a lot, and I promise to show you things soon. It's not even secret holiday knitting — I'm just too lazy to take photos of things in progress.
My sister Bethany (whose sweater is almost done) went with me to my work holiday party and we had a grand time. I'm so lucky to have all this: my family, my friends, my jobs. I have Issues with what we're sometimes Obliged To Feel this time of year, but the fact that sometimes we notice things more–that's just good, plain and simple.
* Affiliate links above because a girl has to buy ink.