Yippee! Sister Bethany's in town! But that means that while I'm playing more, I have less time to blog. But I'll do a quick photo-blog, kay?
It's my weekend, thank god, and the rain's finally stopped. Don't get me wrong, I aDORE rain, but it's hard to move furniture in a downpour.
Das right. Got a little furniture today. Just one piece, a loveseat, but it's enough to throw me into a total freak-out. Beth and I were out last night at breakfast (I know you do it too) and she said, "You're so mellow about everything else, why does moving stuff in your house make you lose your mind?"
Not sure. Only know that I can take life-or-death phone calls and keep track of where and what my officers are doing, and I can change tires in the rain, and I can catch thirty-two dropped stitches in a bar by candlelight, but moving a couch flips me OUT. I turn into a gibbering idiot. I think I'm like my cats. I move furniture and pile crap on top of the bed, and then I just pace around back and forth, blowing air between my lips, saying, "Oh, no. Oh, no. Oh, no." It feels insurmountable.
Bethany is always the one to pet my head and shush me and say, "No, look, just move this here. It'll be okay."
So today, we got rid of my old divan (I LOVED this thing, but I finally had to admit that it's stained beyond recognition, smells like damp from my old apartment, leaks foam, and has a spring that threatens to remove any remaining child-bearing capabilities I might choose to keep. Plus, it cost me five bucks at a thrift store when I was eighteen. I'm thirty-one. I think I got my money's worth.)
I bought a CHEAP loveseat from a consignment store, online (craigslist), sight unseen, and had it delivered today. I adore it.
The old one, with Bethany and Adah.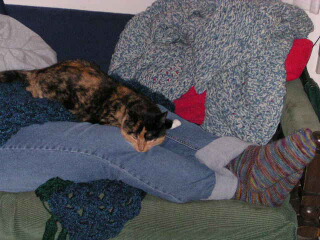 Adah, waiting for the pickup. (I'm losing my mind at this point. Oh, no. Oh, no. Oh, no.)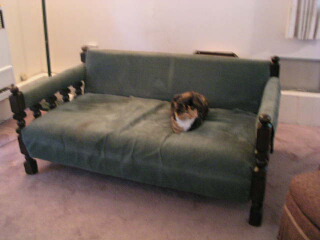 The new one, with Bethany and Adah.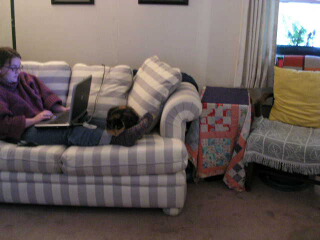 And it made space for a new little yarn center. Yeah, baby.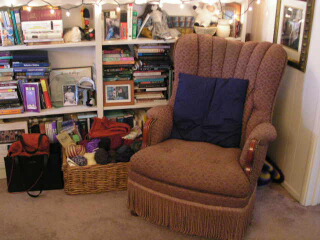 And me! Happy, calm again. And it's comfy! No rogue springs.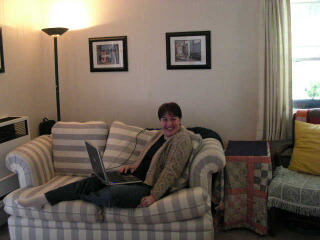 I've had such a great day. And I tried out my new toy, from Mom and the Boys: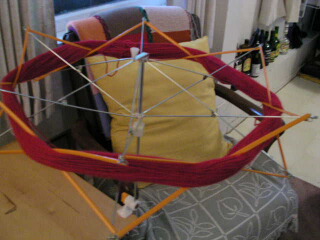 (That's an Indulgent hold-out… not yet sure what I'll do with that yumminess…)
The ball-winder is working its way east, thanks to Christy….
And here's me and the kiddo, just taken. Innint she cute?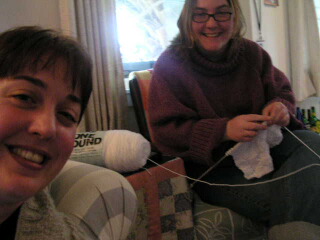 Lord of the Rings tonight (finally!) with both sisters. Steak beforehand, at the dive bar down the street. What could be better? Peace, darlings.
Get a Free Short Story!
Subscribe to get a free copy of Socks for Alex, a Cypress Hollow Short Story, compatible with all devices!