Why, we knit!
Photoblog time! (I just heard a run-through of HammerTime in my head. Not okay.)
First, I have to show you what was on my doorstep this morning when I got home from work. I had been complaining all night that I hadn't had any Cadbury Creme Eggs in a while, and look what the Bunny (Christy) left!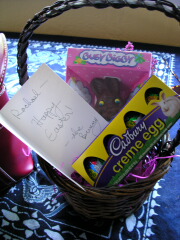 I took two eggs to bed with me for my two hour nap. Those eggs are my favorite candy in the whole wide world, and if they're available anywhere all year round, please don't tell me. It's a good thing for my ass they're seasonal.
After my nap, I got up and went a'knittin'. I gotta tell ya that I was a little nervous about it — only a wee bit nervous, since I've held S'n'Bs before, and this time I knew Joanna and Silvia were my co-sponsors, but still. There's that moment in which you wonder, "Will anyone come? At all? Will I sit here and drink by myself?" Luckily Seltsame showed up right after I did (I don't want to butcher the correct spelling of your name, dear, so I'll use your online name….) and pulled out her knitting. She was quickly followed by Martha (I think). After that, hell, I lost track.
So many cool, fun, funny people! All in one place! I had a BALL! Didn't even take that many pics (for me) 'cause I was too busy running my mouth off. But here's a few fer ya.
A group shot (that's all us in the background, too):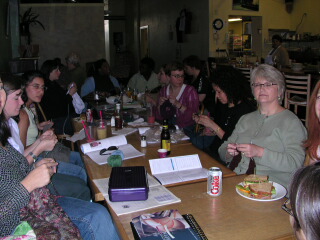 Here are Juliette, Silvia , Amy, and Stella: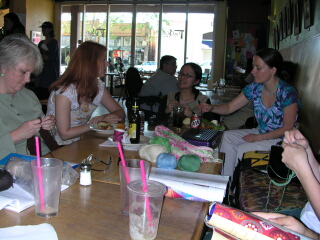 And how cute is this one? Sharlene and Juliette mugging it up: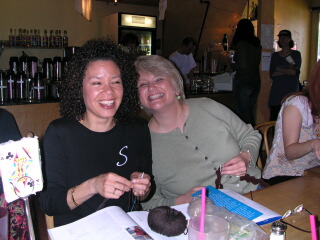 And below are Laura, ready to HAVE that baby, Nyondo, Laine (the reader who recongized me at Stitches!), and my friend Tara. Martha's in the foreground in her FABULOUS pink Bella cardie.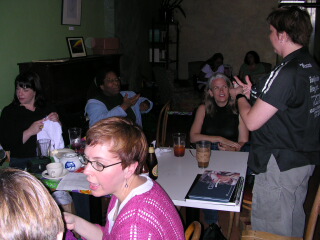 No one could stop ogling Martha's bella Bella , and she inspired us all — I bought a bunch of Horstia orange (duh) silk/wool to make it.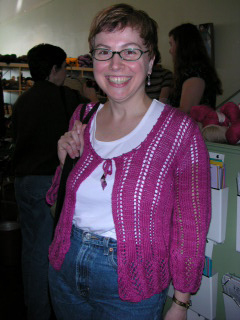 Darling owner Christina of Article Pract gave us 15% off all yarn purchases (THANK YOU!). It was so much fun walking around the store talking to Joy about spinning, and Nathania about color, all of us passing our patterns around — What's the yardage needed for this? Hey, can you check the gauge on that? Sigh. Heaven.
Nathania and me (yes, she really is that gorgeous):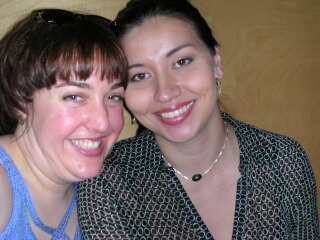 And Stella, me, Nathania, and dear reader Anna: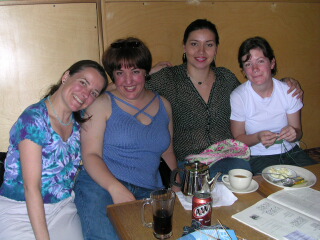 See? I wore it in public (and then took a slouched picture, oh, well….).
Am I almost done? I'm soooo tired and sooooo stupid after so little sleep, but I want to post this before I collapse on the sofa for the rest of the afternoon/evening (NO SLEEPING! If I sleep now, I'll screw up my night sleep for my weekend…..)
Oh, can't forget my favorite Rogue, Joanna: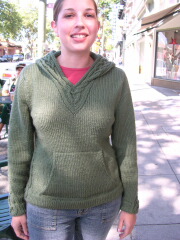 Isn't that fit aMAYzing? Mission Falls Wool, people. All I'm sayin'.
All in all, it was a MARVELOUS time. Hey, send me an email if you want to be on my reminder list for the next meet-up, let's say next month? The more the merrier, says I, and it sure proved true today.
Damn. I'm tired and so happy.
Okay, off to be stupid in quiet. I'm going to the little mama's house tomorrow for some hot cross buns so I won't be around on-line much for the next few days. But I'll be thinkin' of ya! Meantime, didja see my new cafepress store (below)? Knitting IS sexy, damn it. See above pics for proof!
Get a Free Short Story!
Subscribe to get a free copy of Socks for Alex, a Cypress Hollow Short Story, compatible with all devices!