Thank you, thank you, THANK YOU for the comments on Orange Alert! Wore her last night to the movies, and she was warrrrmmmm…. (but not overly so, love Paton's Classic Merino.)
Went to see Cold Mountain. Hmmm. I really don't know how I feel about it, which is odd. I'm usually quite opinionated about movies (and lotsa other things, too, come to think of it). I enjoyed watching it. Mostly. I think. I remembered why I didn't finish the book: It's about WAR. I really hate war books and movies, 'specially the ultra-realistic ones. This one had moments that saw me walking out of the theater.
(Didn't tell my group this, but I left once during a particularly wrenching gonna-be-bloody-awful scene and came back after chatting with the candy people and washing my hands in the bathroom. And I couldn't find my folks. I stood and stared at where I should have been sitting, but the group of four kicked back with their feet up on the railing in the front row were just too young. Shoulda been two guys and two gals, thirty-something range. The group I stared at was the same configuration, with a gap-seat for me where I should have been sitting, but they were all about nineteen. I TRIPPED for about three seconds. Then I giggled all the way back to my real seat down the hall in the right theater.)
It also had beautiful moments, incredible scenery (oh, Maggi, is that really North Carolina?), and truly stunning people (Jude AND Nicole? Perfect). Renee Zellweger, I have to admit, was amazing. I sat and actively enjoyed a great deal of it. Then I was grumpy upon leaving and remain rather ambivalent about it, and I'm still not sure why. Anyone seen it? Any thoughts?
Hey! More pop-culture:
Did you see Carrie's arm-warmers on the Sex and the City premiere? Oh, my knit-gals are so cutting edge! Look:
Em's: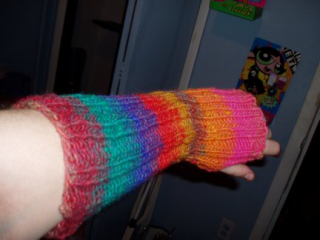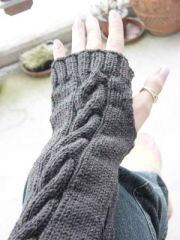 (And while we're on the subject of her, Eve's finished pretty-pretty Wave-Along, too!)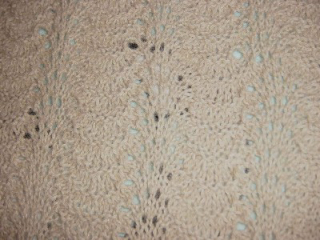 Of course, Carrie's armers were blue camo fabric, but the sentiment is the same. She would have probably preferred hand-knit.
And I just have to address one of my comments. La Brainy says of Orange Alert: "What a great sweater! Is there any colour that DOESN'T look good on you? :)" Darling, please. It's all in the digital camera. You have to know that for most pictures I post, I've taken at least ten more. You're seeing the good stuff.
What you're not seeing is this, where I appear to be addressing the spirit world. Or this, where I have lost my arms. Snort. Damn, every time I look at those I crack the hell up.
Last day with Bethany before we put her on the plane tomorrow…. Off to play!
Get a Free Short Story!
Subscribe to get a free copy of Socks for Alex, a Cypress Hollow Short Story, compatible with all devices!