Hi there! Welcome!
This is my new glass house. It's a little early to let you in, I don't have everything unpacked, and I haven't even figured out how the ice-maker in the fridge works (and I might not ever work that out), but the some of the pictures are hung, and I really wanted you to have my new address.
Will you bookmark me, please? And if, by some miracle of fortune, you have me listed somewhere on your site, will you update that link? I've been having so much fun, and I've found so many new fabulous friends, and I don't wanna lose you. It's a little frightening to me – next week would have been exactly one year at my old site, and it's oddly painful to leave it behind…. the blogging first steps…..
BUT – I just love this new place because I have commenting! And trackback! I can't get over it. Someone leave me a comment, please! Also still have the tagboard, although I can't seem to work out the pixel size of the comment box, aargh. And I haven't worked out all the coding for the rings I'm part of.
(Pulling on my cardie and putting on soft shoes), I'm so glad you're here! It's so nice to see you! [sung offkey] It's a good feeling, a very good feeling, the feeling we know that we're…. [wait for it] ….friends.
OH! – and the reason I love this new place so much is I can throw in a pic or two right with the text, whenever I want! (I know y'all have had this ability forever, but it's very exciting to me!) So here's one for you: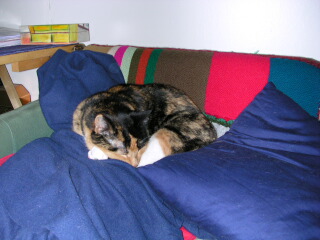 The blanket behind shedding Adah was knitted by my New Zealand grandmother for me more than thirty years ago….
Get a Free Short Story!
Subscribe to get a free copy of Socks for Alex, a Cypress Hollow Short Story, compatible with all devices!