We had a marvelous day yesterday, and it was just like we thought. It was sunny, right up until the middle of the afternoon, when it clouded over. First thing, we went and looked at the most beautiful city in the world (next to Venice) from Alameda.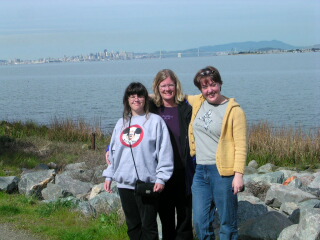 Then on to BART, where we went straight the Sony Metreon, a huge glass building that houses Sony shops and arcades and a theatre and restaurants. We gazed at the wonderful floors and high glass walls, buying nothing but touching everything, and spent a brief raindroppy period in Mel's Diner next door. We're talking big ole french dips and a sundae the size of my head (this is becoming a welcome trend, I think).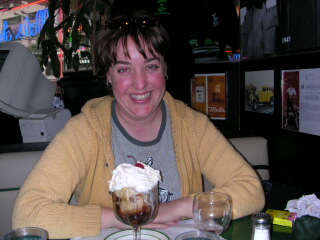 After lunch, the sun came out again! It was one of those perfect rare San Francisco days when the wind dropped and the sun shone and people smiled. We headed, of course, to ArtFibers (our second of three yarn shops), to see my friend Kira. Greta barely got out of there alive. It is only the size of her luggage that restricts her shopping at this point. She's already putting a box together for me to send after her. This is what makes life, good, yes?
Get a Free Short Story!
Subscribe to get a free copy of Socks for Alex, a Cypress Hollow Short Story, compatible with all devices!