Lemme tell you how a day with Greta goes. You get up. You think about doing something, but you talk instead. You go to breakfast and talk until the coffee's cold. You look at the clock, and it's two, not eleven like you thought. A very little while later, it's suddenly six pm, and you don't know how that happened. I have experienced the Time Flies syndome many times in my happy leetle life. But yesterday was ridiculous. I wanted to dig my heels in and drag. It was going TOO quickly.
And Greta? Everything you would think, everything you would guess. She makes me want to talk more slowly, to feel the words in my mouth more fully. She makes me appreciate color. She smiles as much as I do. And she is the BEST storyteller, giving me goosebumps no less than six times yesterday. She brought me the most thoughtful handmade gift that I won't even ATTEMPT to describe right now, but I'll show it to you later, after we do our next photo shoot.
Oh, we had a good time. Here we are on the way to the City. We had been going to take the ferry, but it was a little cool yesterday and threatening rain, so we hopped BART after a FABULOUS breakfast, eggs brady with smoked salmon for Greta, eggs benedict for me, and wonderful looking pancakes for daughter-bird.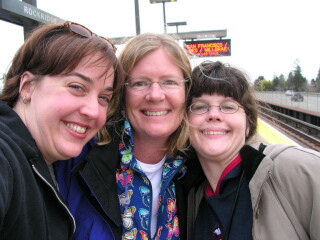 Once we trundled under the Bay, we arose into the lovely light rain and grabbed a cable car up and over the hills. It kinda broke down at the top (we didn't ask) and they let us off right at Lombard.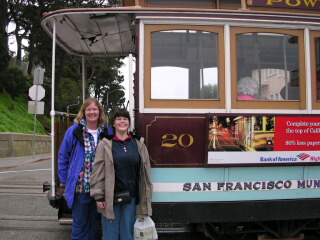 This is for Em: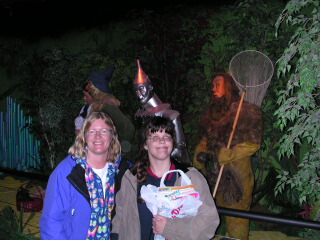 Daughter-bird wanted to eat lunch at Hard Rock Cafe. G and I were still full from breakfast, so we decided to do dessert and drinks instead. Yes, we had drinks: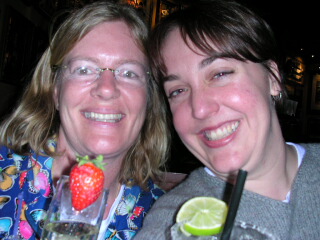 Oh, my merciful lord, their dessert nachos are insane. Seriously. Like to have killed me.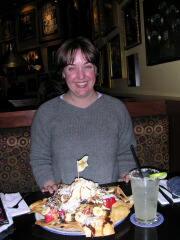 And darling Greta got a shortcake sundae.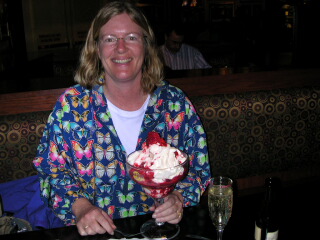 When we left the restaurant, this is what we saw (I'm convinced the City put on its Special Sparkles for the return of one of its favorite daughters):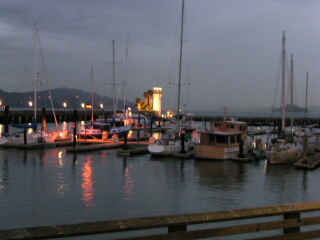 We went to Longs, to the BIG one, the 24 hour one, the one that when asked to swear an oath, I swear by. (That doesn't happen too often, actually….) In the process of looking for a pencil, we found a bean bag that will be PERFECT in my new place (this Longs sells clothes and furniture and plants and even has a yarn section!). This is NOT an attractive photo, but it cracks me up, so hard.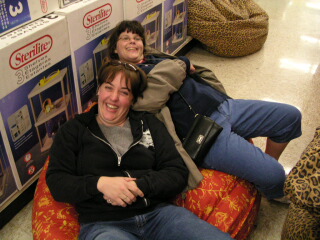 Oh, and she spotted a rug, too. The problem arises, with my small car: How do we fit us and all the stuff in? (We had to put the top down to get all their luggage in when I met them at the train on Thursday night, driving the highway at two in the morning, wind in our hair.) But hey. Shopping with Greta goes like this: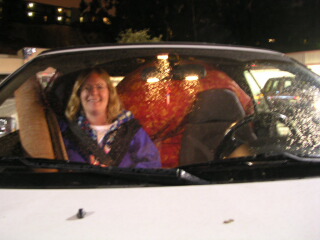 Daughter-bird is IN that car, I'll have you know. She's a trooper, just like her mama.
Now, they're off again, and I'm back at work. I feel horribly let down, after such an eventful (and extended) weekend, to be back at work. Deep sigh. But Stitches next weekend will help with that feeling, I'm sure. And I'm going to paint my new place! Orange! Or rust! But I'll leave the living room yellow, 'cause I love that. Happy weekend to you.
(Oh, that Guestmap is fun, but it's eating people. If you've been gobbled off the map, I apologize. But I know where you are, and I love ya. Mwah!)
Get a Free Short Story!
Subscribe to get a free copy of Socks for Alex, a Cypress Hollow Short Story, compatible with all devices!