The rain broke yesterday and allowed us to put the top down as the sisters drove down the coast. Bethany mostly rode in the back because she's the youngest and we can still make her do things. That and she likes the view. That and she's just a leetle hardier than Christy (Christy, yesterday alone, had 4267 good traits going for her, I counted, but being hardy in the face of cold wind wasn't quite one of 'em. She bravely volunteered for the backseat at one point and we drove about six minutes. Bethany looked up at the trees and said, "The view's better in the back," just as Christy yelled, "It's FREEEEEEEZZZZZING!" They traded back.)
Oh, see? Here's Bethy: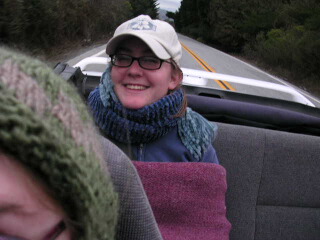 Here's Christy: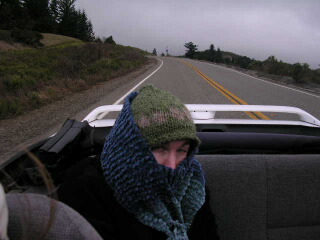 After some shopping at Phipps General Store, where I bought olallieberry jam and we looked at the animals (chickens, peacocks, a couple of rangy goats, and a baby pot-bellied pig wedged between the boards and its huge snoring mother), we ended up at our destination: Duarte's for lunch.
They put us in the back dining room, which is a long walk through two other dining areas, and then through the bar where only locals sit and where the juke is stocked with Patsy Cline and Johnny Cash. The back room still had its Christmas tree, which smelled like it had been sprayed with that fake tree scent. I was a little scared it would make the food taste like camp rations. But, oh, it did not. A crab melt and a Newcastle made the afternoon taste right. It was just us in the room, so we could be as stupid and loud as we liked. Which we were.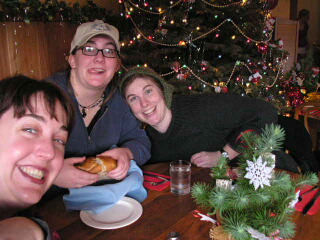 And the reason for the trip? Olallieberry pie. Christy had never tried it. And yep, it was just as good as I remembered. I've told you before, I don't even LIKE pie. But this pie…. with its crust….. and the rich vanilla ice cream that places way more emphasis on the cream than the ice….. Here we are, in the midst of deep happiness (you'll notice I'm wearing Olallieberry, my homage to the pie):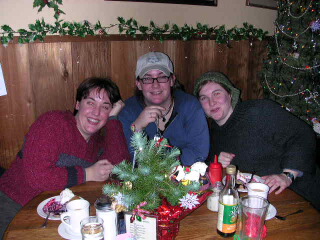 It was the perfect ride, with only one brief stop at Fengari in Half Moon Bay where I only bought one skein of Lamb's Pride – you'd have been proud of me. Oh, and a Sirdar pattern I liked. I think that's it. Then back home, top up in the dark.
Bethany and I celebrated New Year's in the best way possible, I think (I've always hated that Search for the New Year's Party, where you end up fighting with your significant other and not wanting to kiss ANYONE at midnight). We flaked on all the other things we could have done, sent Christy off with her boyfriend to do the Search, bought champagne and those little wrapped cheeses, and invited Rachel and Kira out from the City. While waiting for them to arrive, I called Maggi, who's even more darling than can be believed. She has the best southern accent, something I hadn't ever imagined in her writing voice but now can't get out of my head. It was really truly lovely to talk to my friend, live and in person. Aren't we blessed?
Then I picked up the girls from BART, and we all sat around knitting and watching old taped Buffy episodes until the ball dropped.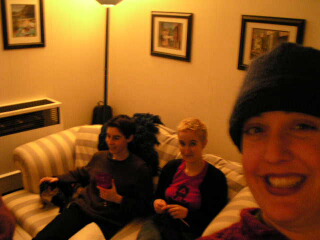 (New Bucket-O-Chic on m'head — need to block it a little still, but I love it.) I gamboled outside to let in the New Year and stood there, happily listening to the fireworks and the pops. And then I realized that although I live in north Oakland, it's still Oakland, and there was an awful lot of gunfire, so I went back inside for more champers.
A good way to open the book of the new year, wasn't it? Now we're trapped inside in an enormous rainstorm that's been pounding since two-thirty this morning. Digit just came in, a wet muddy snarly animal who hated like hell getting dried off. But he ain't going out again, if that thunder I'm hearing means anything. Bethany's in the tub, her favorite place, and I'm in my new favorite place, sitting on my grown-up loveseat, so all's well. I hope all's well in your corner of 2004, too. Peace to you.
Get a Free Short Story!
Subscribe to get a free copy of Socks for Alex, a Cypress Hollow Short Story, compatible with all devices!