It's going to be at least a week before I get the new color Koigu Kersti from darling Rob, which will be a closer match to my dye-lot, hopefully. I love Cromarty. I adore Alice Starmore. But hell, I'm tired of eensy cables. I started the Retro Prep (see IndiGirl Amy for fab examples of this one) in Noro 55, that stone beach colorway. It's the most muted Noro I've ever worked with and I'm in love. TOO excited that I'm going to be doing miles of stockinette. Could not be happier.
I actually cast it on Saturday night, knowing that I'd be training for the next four working days (SMFS). This is the same trainee that I had about four months ago. I got her at the beginning, when she knew nothing. Police dispatch is such a ridiculously detailed, difficult job that it usually takes 4-6 months to learn, and it's a slow learning curve. At the beginning, I talked all day. I had four weeks of just talking. Just teaching. I never knew you could talk for ten hours at a time, teaching, and still have a million more things you'll never cover. You'll never go over every contingency, every emergency, every way things can go wrong. But she's back with me now, an (almost) proficient dispatcher, and I'm merely listening to her while she dispatches on the radio. I can't type for her, I can't talk for her, I can only correct her when necessary. I must have yarn in my hands for this. And I tell you, Noro in stockinette? The perfect thing to keep me from wringing my little hands together. The trainee is really doing amazingly well, but almost every dispatcher is an opinionated person who does things her way, which is, of course, the only right way. It's SO hard to not take over when things get heated. To let her flounder a little. Oy.
I want to show you a picture of the finished front of Ms. C. But that means I have to dig out my camera, plug it in, download the snaps, choose one, resize it, save it, yadda yadda. Don'tcha just get freakin' lazy sometimes?
Oh, all right. Hang on.
There. Here y'are: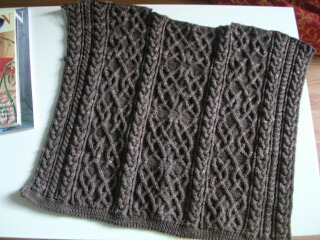 And one for scale: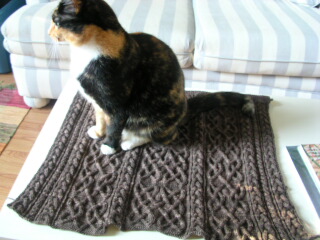 Thanks for all the condolences sent to Christy. It shows (again) the loving side of blogdom, and it means a lot to us. Really. Think of her some more if you can. It's lonely, losing a friend like that. Love you, Christy. I'm proud of you.
Get a Free Short Story!
Subscribe to get a free copy of Socks for Alex, a Cypress Hollow Short Story, compatible with all devices!