I can't believe that y'all notice dates like I do. C'mon. I thought I was the only one who read things into the digital time (and I don't mean just 4:20). Unfortunately, while I see lots of things in time, loving it when I catch 11:11, I also see penal codes. All day long.
2:45 – Assault with a deadly weapon
3:14 – Indecent exposure
4:17 – Brandishing
2:11 – Robbery
4:59 – Burglary
I could go on and on. I won't. But I will say that most of the clocks in my house are analog.
Eleven Eleven was good. I took myself under the water on BART and had myself a little artist's date. First to Art Fibers, where I fondled things. I KNEW there was a reason I hadn't been there. Escaped without buying anything – not sure how that happened. I promised myself I'd go back when I had a pattern in mind – loved their Scottie #1, wool/angora blend, but not sheddy.
Then, on a suggestion from Indigirl Amy, I went to Urban Knitting Studio on Fell Street, where I fell in love with Rowan Calmer. Gotta get me some of that. Got out of THERE without buying anything, but that was ONLY because Brooke called, saying she'd meet me up the street for eats. I told myself I'd go back, hoping I wouldn't.
I walked further into Hayes Valley, which is adorable, an area of the City I just don't know at all. Amy had told me about Fritjz, a place for Belgian fries and beer on the back patio, so we ate, drank, and were happy in the late afternoon.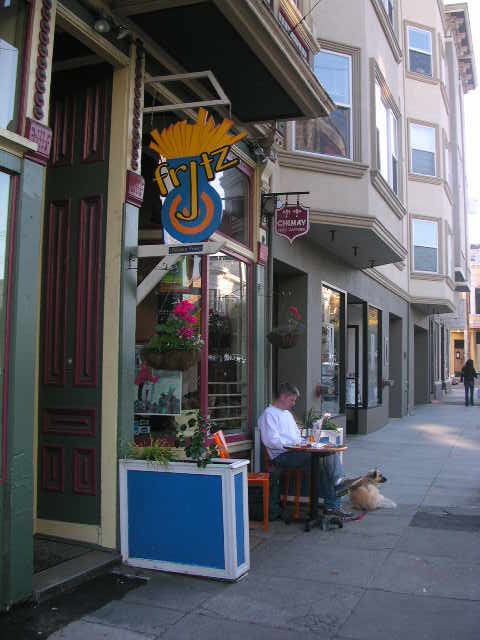 I had a crepe. She had a salad. But I swear, it was all about the fries and their dips of choice.
A good day. A got-little-done (but I did pay the bills) kind of day, but a good one. Got a pretty strong feeling today's not going to be much different. REALLY need to buy kitty litter, though.
Get a Free Short Story!
Subscribe to get a free copy of Socks for Alex, a Cypress Hollow Short Story, compatible with all devices!