Feeling much, much better today, and THANK YOU for all the well-wishes. I've got a doctor's appointment on Thursday, which I promise I'll keep, and I'm gonna march right in there ask for Imitrex (or Maxalt, whatever. Just give me somethin!). Yes, ma'am. Got faith in modern science? Shore do.
So I'll fill you in a little more on what I didn't feel like filling in yesterday — some more pictures! (Am I going overboard on pics? There are weeks when I hardly post any, when getting the camera out feels like a major pain in the ass, but when family's all around for the holidays, it's already out. So here y'are.)
Me in my new Bucket-O-Chic hat.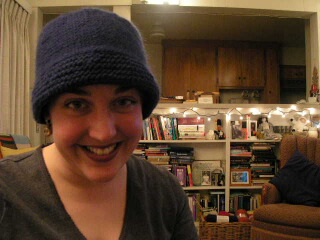 I *really* didn't want to join the camp of Bucket Makers because I can't wear hats. I have an enormous, man-sized head, and I look stoooopid in 99.99875% of hats. This one, while it does a little funny on me, kinda suits me. I'm so pleased, get this, that I'm gonna make another one!
And here's a shot of Thursday night's Knitting in the City group — no band played that night, so there was no one to shush us. And yay! Joanna came! (But no good pics of her came out….)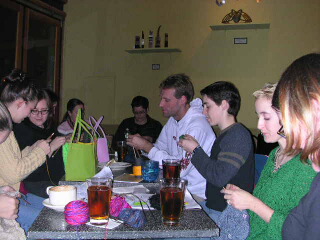 We did, however, get more than our share of gawkers, one man trailing a band of his downcast-eyed women who said that in his country all the women knitted all the day long, and they even made CLOTHES. We kinda pulled on our sweaters and said things like, "Yeah? Uh-huh." He left happy that women were continuing the tradition. Ah, well. We do what we can.
Another man came up and said,
"Knitters. Jeesh. I have a highway patrol buddy and the other day he was following this woman who was KNITTING on the FREEWAY! She was weaving all over the road and not paying attention to anything. Can you believe that? She was KNITTING on the FREEWAY! He's flashing his lights and whooping his siren, and she just keeps on knitting and driving! So my buddy gets on his car loudspeaker and says, 'Pull over! Pull over!' And the lady in the car just puts her head out the window and screams, 'No, it's a cardigan!'"
Kira didn't think it was funny, but Beth and I liked it. Hee!
And here's Nate, a Very Nice Guy, who comes to knitting and works on his beer cozies about once every three months. On Thursday he finished his second one! Round of applause, everyone. Here it is, wrapped around a beer glass instead of the bottle it's intended for.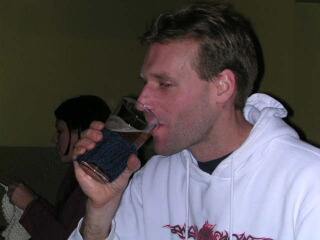 It takes a confident man to sit in a hip bar in SF with twelve knitting women, I tell you that. He's a smart one, though. He knows it's a chick-getter thing. The girls dig it.
Oh, and here's my progress on the sweater I'm making up as I go along. I'm calling it, in honor of the current terrorism level, Orange Alert.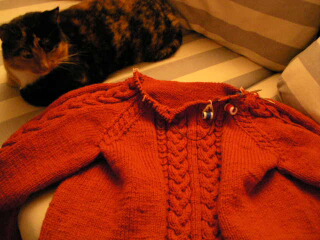 Actually, last night I finished it up. Kind of. It was totally meant to be a cardie. But I'm loving it as a pullover. (Hee! Pull over!) I may leave it as such for a while and steek it later (crocheted steeks here are the BEST). Pictures and talk about the process later, I promise. It was FUN to do.
Get a Free Short Story!
Subscribe to get a free copy of Socks for Alex, a Cypress Hollow Short Story, compatible with all devices!