Thought you might like this: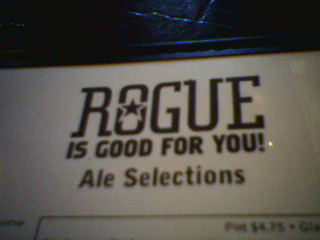 Rogue is an alehouse in Northbeach, the Italian section of San Francisco. I took BART over yesterday and met Brooke and some pals for the SF Oyster and Beer festival. Celtic music in the park, what could be better? Well, the problem was that EVERYONE thought that. I managed to grope my way to a beer, never got an oyster, found my breathless friends at the entrance, and we escaped, leaving the masses to sit in the cold sun. We found, instead, a table at Rogue and sat and drank and watched all the Boston-Irish transplants drink a LOT at the bar.
Then I caught a ride back to the East Bay with a friend who was going to the same impromptu dinner party that I was, and we had one of those charmed evenings where everyone is funny and sweet and the food tastes great. I have to hand it to my friend Jenn for throwing together a dinner party like that. I've said for the last seven years I might have a dinner party someday, and now that I have the room, I'm too nervous to do it. Oh, I hate throwing parties. Love going to them. Hate hosting them. Jenn, however, decided yesterday that it was a good day to have friends over. She bought chicken and steak and made some sides, called some folks, and people came over. How hard is that?
I still don't want to do it. Maybe when I have mine I'll have it catered (like I can afford THAT).
I'm rambly today, ain't I? I just feel so much BETTER (but I'm not overdoing it, I swear. I'm being very careful) and it feels so wonderful to have almost my old reserve of energy back again. It's overcast and chilly today, but I think I'll hie me off to the monthly Antiques Fair in Alameda, a huge high-priced garage sale. I need some wrought iron chairs for the backyard, and I just feel like looking at trinkets. I've got the need to window shop. You know? And tonight I've got the girls coming over for The L Word and I'll work on the new Vogue tank with which I'm in LOVE. You know the one?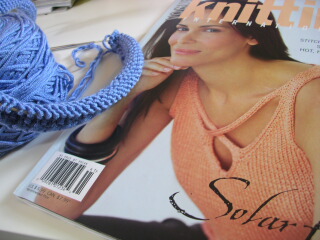 I'm doing it in some plain ole Lion Brand Microspun, and it's working up nicely, I have to admit. I have the back done, and I just started the front.
Off to weekend!
Get a Free Short Story!
Subscribe to get a free copy of Socks for Alex, a Cypress Hollow Short Story, compatible with all devices!