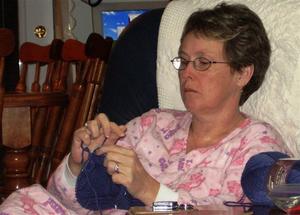 She said she's not usually so cross-looking, that she must have stabbed herself with a cable needle, but I think she looks fabulous. In this picture she's knitting her third BAWK hotty cozy. THIRD! She's sent two away to daughters at college in Ontario, and this one was to stay home with the last girl, still living with her. (Three girls, just like us.) And the best part? A copy of the pattern went off to a friend in Prince Edward Island where the snow was piling high. PEI! Lucy Maud Montgomery will always be one of my most beloved authors. She's comfort for the soul. (And Grace recommends her journals, which I haven't read, and must.)
That's all. It's Sunday. I'm sleepy. Here's hoping for a Quiet Super Bowl Sunday (I'm off work at 7pm, when the real post-drinking madness begins…..) Enjoy the commercials, and if you partake, the game itself. Or go shopping for books. Super Bowl Sunday is a wonderful book-buying day…..
Get a Free Short Story!
Subscribe to get a free copy of Socks for Alex, a Cypress Hollow Short Story, compatible with all devices!