See, the secret to Typepad is to compose your blog posts whenever you want and then just time them to launch whenever you like. If I write this post right now, this Thursday afternoon, and have it show up tomorrow morning, I'll be golden till Sunday. I can't post from work, because I can't download PICTURES at work. But I want to write right now while the skies are recovering from a massive downpour (what are the odds of that? In a week of sun, pneumonia-girl goes out in the rain?), with the heater on, both kitties washing themselves, the promise of Zachary's pizza in my future. Much better writing now than in the morning between phone calls.
Without further ado, may I present: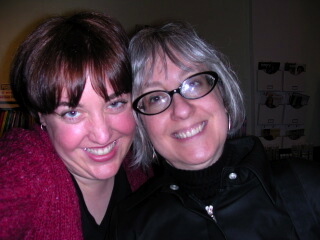 (red-eye reduction by reader Steph – thanks!)
This is Leslie, of Nake-id Knits (and of the p.12 piece in the new Vogue Knitting! Whoo hoo!). Just how cute is she? We got the chance to get together today. (I mean yesterday, must remember posting time….) We had chai, and knitted together (her Must-Have really is a must have, in Arucania burgundy), and did a little yarn shopping at my LYS, Article Pract. Always a great store, it was made even more fun when checking out and the counter-person said, "Are you Rachael?" Well, she had heard the owner, Christina, say hello to me when we walked in. Okay. There's that. But she HAD put me together with my blog, and she also reads Leslie's, so it was a fabulously fun moment. Hi, Amy!
And Leslie gave me this which I LOVE: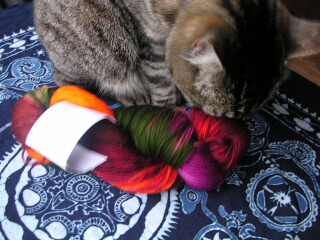 (Digit likes it, too.) It's Interlacements Little Toes, color 216, and she got it for me because of that gorgeous orange in there. She knows I'm into orange lately.
I don't know if she knows HOW into orange I've been lately: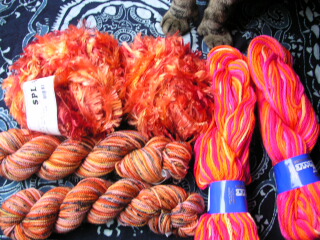 She's just like you'd imagine, sweet and funny and smart as a whip, and it just goes to promote the Not Weirdness that occurs when like-minded bloggers meet. For some reason, Oakland seems to be a knitting hub of an odd sort, and I've been lucky enough to quite a few of you. But I want to meet all of you! Can't we have some big knit-blog party somewhere? (Say, Fiji?) Where we all sit and drink and knit and laugh. That would be a party, all right. What I liked was that a bunch of her family members were with her when I picked her up, and I shook everyone's hand, and then when it got to Leslie, we hugged and said "Nice to meet you" at the same time. I've never met a knit-blog friend and NOT hugged immediately. Nice, that.
Physically, I'm feeling better. The outing with Leslie was just about at my limit, and I came home feeling pretty worn out. But happy. As I hope you are. Happy Friday.
Get a Free Short Story!
Subscribe to get a free copy of Socks for Alex, a Cypress Hollow Short Story, compatible with all devices!