I have identified and named my main goblin. (For those of you just jumping in the creative-process-talk that's been going around some of these blogs, a goblin is that little voice that keeps you from doing your best work. Or any work at all.)
My big guy, my biggest problem, is the Tomorrow Goblin. Oh, he's slick, all right. Today's not quite right, he says. Sure, you're a good writer. You'll finish that novel and you'll start another one. I have no doubt about that. But today you have to work a twelve hour shift and stop at the grocery store when you get off. Write tomorrow, you deserve a break today. – Or – Today you'll barely have time to blog and do the morning pages before you have to be at the dentist and then you're meeting the girls at the movies, you'll have so much more time tomorrow. You'll do such a great job tomorrow. Just relax today. – Or – Today you're just in a non-creative mood. You'd do better to sit on the couch and knit and let the writing well fill up on its own. Tomorrow's going to be such a fabulous writing day for you!
You see? He's a flatterer. I eat that shit up. Yeah? I'll do good tomorrow? Okay, today I should take it easy, then. All right. Who's going to feed me those grapes? Concierge! *snap*
(And to those of you not involved in deconstructing the creative process, we are not crazy. These aren't (in my case) actual voices we hear coming from grizzled little guys with pointy ears and curled shoes. These are the things we say to ourselves in rapid, mostly unnoticed thoughts. Mighty effectively, I might add.)
I've got other goblins that come to visit, but I've been dealing with them for years. I know what to do to trick them. To the Editor Goblin I say, have a seat. As soon as I'm done with this, you can tear it apart. And then I lock it away while he sulks. Most of them sulk, come to think of it. But the Tomorrow Goblin is crafty and makes me feel good. If I were on a diet, he'd be the one telling me that because I witnessed that fender bender on 3rd Street I deserve that ice-cream sundae for my stress – I can always eat better tomorrow.
But you know what? Yesterday, I kicked his ass. I dragged him kicking and screaming down to the tea shop where I made him stand outside in the cold while I got a huge chai and wrote sitting in one of the deep couches. He didn't wait for me – when I went outside he had left for parts unknown. Probably out on a goblin bender, tossing back the spiked antifreeze. He's getting closer today, I can feel it. I have to go get a flu shot this morning – he's whispering that I might feel funny after it, it might be better to plan on writing tomorrow.
Hey. Today's good. It's that simple.
Oh! Big shout out to Steph – I'm working on the sleeves of the Must-Have (doing it in the wool called for, Paton's Merino Classic Wool, in Natural Mix, a nice oatmeal color ) and I got to a line that I COULD NOT DECIPHER. I sat and fought with it for half-an-hour, almost coming to tears over it. (Thank god I did my writing early yesterday. The TG would have won, right there.)
The instructions were, over a 3 st group, K1, yfwd, K2togtbl. Hey, here's what they left out: WTF? Yarn forward? Huh? If I bring the yarn forward, how the hell can I possibly knit 2 together through the back loop? And that makes a decrease, and I'm not SUPPOSED to make a decrease! I was ready to stab the carpet with my bamboo needles. I sent an SOS to Steph, who's making the same thing.
And she saved me: It was a language barrier! Who knew? In Canada and Britain, yarn forward means yarn over! That tiny detail cleared it all up, and this is where I'm at: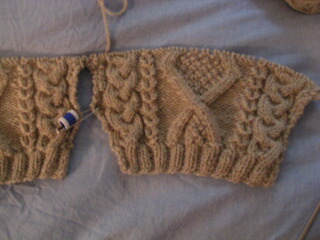 Ain't it fun? I'm in love with it. Sleeves always seem to take so long, but I know I should just enjoy the ride. Off for a flu shot. And then to write. Yup.
Get a Free Short Story!
Subscribe to get a free copy of Socks for Alex, a Cypress Hollow Short Story, compatible with all devices!