So this is what I'm thinking about the tattoo:
[aside – have you noticed I start most blog entries as if I'm in the middle of the conversation already? I do that when I answer the phone, too. God bless caller ID. It kind of freaks people out when I answer, "Where did you end up parking the other night?" But what am I gonna do? Pretend ("Hello??") like I don't know who it is, when everyone knows I have caller ID? Come on. End long aside.]
Anyway. Tattoo: I want an armband. A traditional-looking Celtic one, though it won't be traditional – I want an aran knit cable, but I want the suggestion of sheep worked in. Leaping blue sheep, worked right into the twists. It's going to take some kind of amazing artist – anyone know a Bay Area tattoo artist they'd recommend?
Sheep! Did you know Rachael means ewe in Hebrew? And that I'm half Kiwi, and my mother was raised on a sheep farm in New Zealand? My granddad died when my mother was a teenager, and my favorite story about him is how soft his right hand was. He'd stand by the stile and touch each lamb as he guided them into the pen, and that one constantly-lanolined hand stayed silken. Isn't that a nice memory for my mother to have?
So I think sheep are appropriate (and also just very, very nice).
Speaking of little mamas, mine is in town. Picked her up from the train station yesterday in downtown Oakland, Jack London. I love how the trains have always dominated the face of the Square, and I got there a little early. Trapped by two slow moving trains, I parked on the wrong side of the station and took the aerial stairway over the top. I'd never climbed it before – it's about four flights up to a steel walkway that goes right over the tracks and back down on the other side. After making sure the little mama hadn't arrived early, I stood up there and watched the trains pushing under my feet. I could see to the Bay and back the other way to the hills. A gorgeous afternoon, warm and clear. When Mom's train came in, I grabbed her and we went to lunch with Christy (who works in the Square) sitting outside at Jack's (of course), watching the pitch of the boats in the channel between Alameda and Oakland. There's an aircraft carrier docked for repainting, and the wonderful Heraclitus, a coral-reef monitoring junk that's been to the Amazon and Antarctica, was being guarded by two punk rockers and a man in a scarlet scarf.
Then we just…. hung out. We have doctor's appointments today down at Stanford, but yesterday was for hanging. We watched a little taped Six Feet Under. I knitted. She napped. Dinner (outside again) with a friend. A little more TV. Oh! Here's a picture, my little mama having been claimed by Adah.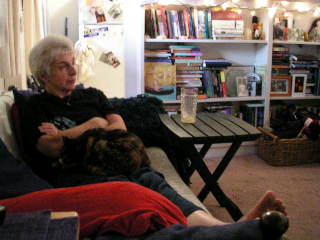 It's so NICE to have her here. I wish she could stay longer, but she has four cats herself, none younger than nine, and she wants to go home on Friday to relieve Dad of the Cat Watching Pressure.
But doctor's appointments aside, we expect to have a grand time today. Hope you do as well!
Get a Free Short Story!
Subscribe to get a free copy of Socks for Alex, a Cypress Hollow Short Story, compatible with all devices!