Hey! Wanna knit-along? Maggi and I are getting together – we're gonna do the shawl seen here.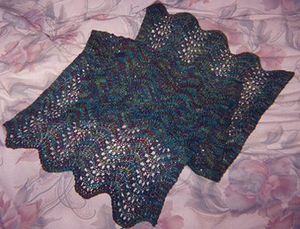 Here's the pattern . Only Maggi's thinking of doing it more as a lace-weight scarf. I'm going to do it as a worsted weight shawl. How will you make it? C'mon, you can't belong to too many knit-alongs. Shoot, I still haven't felted my stupid Suki bag. All it would take is getting my ass over to the laundromat, as my washer isn't sophisticated enough to connect to hot water. But nooooo, I'm too lazy.
And remember, the holidays are just around the corner……
(Do you hate me now? Every year I always officially hate the first person that makes that threat.)
Digit's inside at reasonable hour (5pm) and is now screaming to be let out. But if I do that, he won't come home for hours out of spite, so he's not going anywhere. Last week I had to leave him out one night when he wasn't home before I had to go to work. When I got home at seven the next morning, I gave his "come home" whistle. I saw him way down at the back of the neighbor's garden. I watched him see me, kick up his heels, and then GALLOP all the way across two yards and a long driveway to skid to a stop at my feet. He was so HAPPY to see me. Usually he doesn't betray that at all. Way too cool for that.
And a big shout out to Karen, who's the coolest kid on the block today. She helped me secure the missing Strawberry Music Festival ticket that our family needed to go as a whole. This, for bluegrass lovers, is like winning the lottery. Christy hadn't bought one before they sold out, and we've been devastated about it – after it's sold out, you have to either sleep with the devil or sell your soul to Nike to get a ticket. But Karen tracked one down for us, and I'll pick it up in the City this weekend. And we can ALL go camp in Yosemite and listen to Alison Kraus! Whoopee!
….come on, knit along?
Get a Free Short Story!
Subscribe to get a free copy of Socks for Alex, a Cypress Hollow Short Story, compatible with all devices!