I love Romi. She is literally the reason I was finally brave enough to knit lace. She kept telling me over and over again, in that calm, beautiful voice of hers, "You can do it. It's actually easy. You can totally do it."
I'm so excited that I get to give away a copy of her new book, New Lace Knitting. Details after the interview!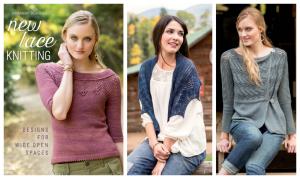 Hi, friend! I know I can't ask what your favorite design in the book is (they're all your babies) but can you tell us which was the most fun to design?
That's a difficult one! I think it's a toss-up between the Talus Cardigan and the Williwaw Cardigan. I'd been fooling around the idea for Talus for quite some time and it was so much fun to see it come to fruition. It turned out exactly as I had envisioned it, though the construction ended up a bit different than what I had initially imagined. Williwaw was just so much fun. I put all sorts of little geeky details into it – my favorite. Super fun parts: the way the pattern carries across on the back, the way the lace pattern emerges on the front asymmetric opening, the way the yarn shows stitch definition. Loved the whole process!
If you weren't a full-time knit designer, what would you be doing today?
Wow. I haven't really thought about it! Making pretty things, for sure. But what kind of pretty things? Maybe photos? Maybe I would be a writer. Potter? Glass blower? I'm not giving up knitting design any time soon though. 🙂
What's your favorite last minute oh-crap-I-have-make-dinner meal?
Believe it or not, our family has such a crazy schedule that we're hardly ever together for dinner. Older son does triathlon and has a bazillion AP classes. Younger son is an amazing trumpet player and in youth orchestra, band, and steel drum band (how cool is STEEL DRUM BAND?). So, I guess the last minute go-to would be sourdough cornbread (I am into all things sourdough) and soup. If weather permits, we'll barbeque some chicken to go with. With the soup, I cheat and do Trader Joe's Black Bean soup with beans and corn salsa added. We aren't much into dessert, but there's always some fruit around and/or ingredients for a smoothie.
Get a Free Short Story!
Subscribe to get a free copy of Socks for Alex, a Cypress Hollow Short Story, compatible with all devices!