Welp, she's done. All done. And I lurve her. Lookie:
May I present to you, Olallieberry?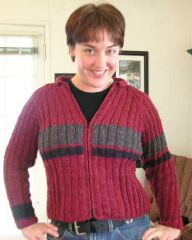 From BonneMarie's pattern (she's so reliably terrific that I set my knit clock to her) and done in Jo Sharp SilkRoad Aran Tweed (merino wool, silk, and a touch of cashmere).
A little dance, a la Becky: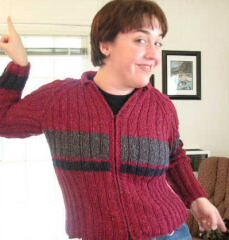 I loved everything about this pattern, including the speed and ease of completion. It seriously helped that there was almost NO finishing needed. This was the first time I worked from the bottom up, and I'm totally hooked. Happy, happy! And know what? IT FITS! It's not too short! It's not a bolero! Nice as boleros are, of course.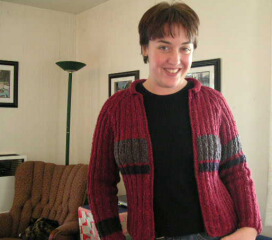 Notice how impressed Adah is (asleep behind me in the chair).
I am SO wearing this to the Rufus Wainwright show tonight.
Hey, but last night I wore (again) the Must-Bolero. Went knitting in the City (seen from BART platform):

Knitting with the gang – the live music was Celtic, which was perfect for knitting to. The only problem was it was a pretty large crowd – all the musicians had all their friends and family and it was pretty damn loud. Hard to talk. And then when we DID manage to be heard over the music and all the other shouting going on around us, a sweet looking little old lady came over and told us to be quieter – that she couldn't hear the music over us. I agree, that WOULD be irritating. Except that the music was SO loud, her grandson sat there with her with his fingers plugged in his ears. Or maybe that was to drown her out. Huh. It's a BAR, woman. With loud fiddling Celtic up front, us at the back, and a whole bunch of loud people all around. Why pick on the knitters?
But we had fun, even in the dark. Here's The Other Rachel, helping John see his knitting, holding the candle up for him.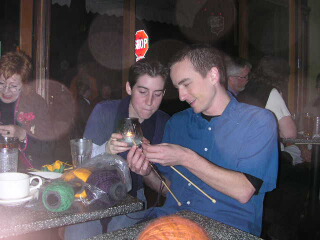 And the best part?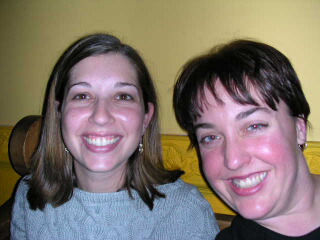 I recognized her by her sweater – she was as cute as it was, and she was a joy to get to know. And again, I'm struck by how NOT weird it is to meet online friends. We took BART back East Bay together, and it was great just to talk knitting and blogs and, like, stuff. You know?
Except that was maybe a little too much train-taking, because I had a hard time sleeping and every time I woke, I had Sheena Easton in my head. "My baby takes the morning train, he works from nine to five and then, he takes another home again, to find me waiting for him….."
I hereby vote this as by far the most annoying song to have stuck in your head all g.d. night. Don't even THINK about the feminist politics of it, or you'll lose your mind.
Back to work. Tonight, Rufus…..
Get a Free Short Story!
Subscribe to get a free copy of Socks for Alex, a Cypress Hollow Short Story, compatible with all devices!