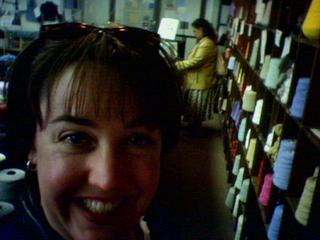 I'm in School Products in New York. This was our last stop on our Yarn Crawl of New York, and yes, behind me is Em and Cashmere. Not shown are Cari and Iris of Unfurnished Brooklyn.
CAN YOU TELL HOW HAPPY I AM?
It's ridiculous. Yesterday I had cashmere (a 2lb pound of lovely green and 2 small hanks) and pierogis (both potato and spinach) and an egg cream (?) and a gander at a lot of the City. Today, Bethany and I will tackle the City on our own. We leave tomorrow, but I don't want to!
I have so much more to write. You know I do. I can write reams on the way I buy toilet paper, but today there are things to do (and eat). Ciao.
Get a Free Short Story!
Subscribe to get a free copy of Socks for Alex, a Cypress Hollow Short Story, compatible with all devices!