New, real name. No lie:
Precious Cannister.
Yeah, that's what I said.
I have a date tonight with Doc. (That's what my friends at work have decided is her Sex and the City name–you know, along the lines of Mr. Big and The Russian.) Just a movie and maybe a bite. I'll fill you in tomorrow…. Now, back to Cromarty.
Oh! And here's my gal Kira's leg with legwarmer sock (from Debbie Stoller's Stitch 'n Bitch) with Cascade Fixation from the Wonder Boys.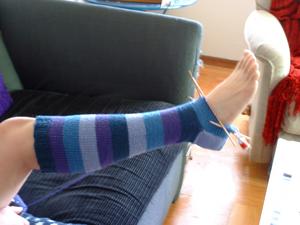 Ain't it cute? The colors are awesome in person.
Mwah.
Get a Free Short Story!
Subscribe to get a free copy of Socks for Alex, a Cypress Hollow Short Story, compatible with all devices!