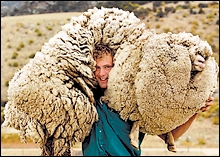 LOST SHEEP: Shepherd Daniel Devine carries this merino ("Shrek"), which has evaded shearing for six years on New Zealand's South Island – and has the wool to prove it.
STEPHEN JAQUIERY/OTAGO DAILY TIMES/REUTERS
More HERE. Thanks, Maeve, for the heads up!
Get a Free Short Story!
Subscribe to get a free copy of Socks for Alex, a Cypress Hollow Short Story, compatible with all devices!