I had a lovely phone conversation the other day with Leslie of Nake-id Knits. It was the first time I'd ever spoken to a blog-friend, and it really was weird at first. Then we fell into it – just as you'd think would happen. What I found curious were not only the connections that we're all already aware of (the knitting, the writing, the cats, the (generally) liberal stance, the graciousness of spirit), but also our shared rapidity of speech, an ability to zoom from one topic to another and back again. It must be the knitting. The ability to make it up as you go along. She's of the "trotting horse" school of thought, as am I (as opposed to someone like Becky whose finishing work is the stuff dreams are made of). It was a blast to talk about this kind of thing, to reference familiar blogs in our conversation, dropping names and sites, knowing we're all just one big ole happy family.
I love it. We're lucky, don'tcha think?
Plus, I get some great readers who are non-knitters who boost my spirits in just the same way. The other day my friend Nichole called me just to say she had read the virtual highway entry and wanted to thank me for making her laugh. She doesn't knit, but she loves me despite my obsession. And special props go to Brandy and Kathy, who have read since day one, who make me feel so special. (One day Kathy's son was in dispatch, and she said to him, "Oh, David, this is the website lady." I didn't think he'd really know what the hell she was talking about. Yeah, Mom. Whatever you say. But he exclaimed, "No yoga in the bathtub!" I almost fell off my chair. He knew me, all right.) And Brandy's a knitter now!
Didn't know this post was going to be a love-fest. But it is. There you go. Thanks for reading, thanks for being my friends. It means more than you know. Or heck, maybe you do.
Anyway – what I WAS going to talk about is the opposite of a love-fest. Yep. A knitting hate-fest. It's what I haven't been talking about (no, it's not the Secret Project, but that's done, too) because I was too busy just making it.
I hate this sweater. Hate (almost) everything about it. Won't frog it because I hate ripping out my knitting and I hate this yarn. Not worth rewinding. It's just Plymouth Galway Highland Heather, color 741 – not even that despicable a fiber. Good solid hundred percent wool. Nothing fancy. It's the color I despise. What was I thinking?
In the sun, it's beautiful. In the sun, there are hints of yellow and blue under the mint green. MINT! Aaaaaarghhhh! And how often do you wear a sweater in the sun? Huh? Huh?
And the pattern, a photocopied no-name travesty, is unavailable anywhere on-line. For good reason. I can't even begin to document how many problems there were in the pattern. Just plain wrong, written in language that was just plain stooopid.
For these reasons, and for the sake of my sanity, I cut it short. Whap! It was supposed to have full sleeves with the pattern done down the arms. No fucking way. It got cap sleeves just so I could bind it off yesterday, for once and for all.
The thing is, I hate it too much to even give it away. That's when you know it blows. The only way I find it tolerable is layered under black, which means I'll wear it only on winter nights when I know it'll be cool enough to keep two layers on (I overheat quickly). While cap sleeves might look good on some, they don't on me, baby. I'm a tank-girl. Cap sleeves make my arms look like thighs.
Enough ranting. Here's the monstrosity: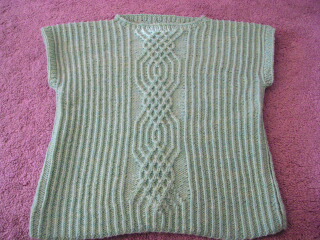 A detail of the twists which were pretty all right, I suppose, once I rewrote the (almost wrote "code") pattern: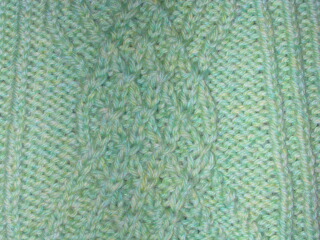 Digit weighs in: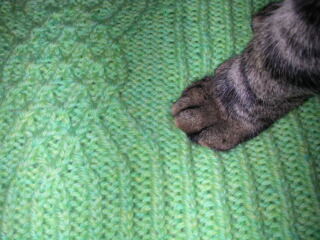 Me dancing in black. Trying to cheer it up.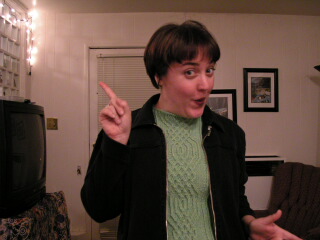 Sheesh. At least it's over. Mint…. Grumble….
No post tomorrow, no time, so have a great weekend! See you Monday! Mwah!
Get a Free Short Story!
Subscribe to get a free copy of Socks for Alex, a Cypress Hollow Short Story, compatible with all devices!