It's Maggi's birthday! Just another day closer to perfection, that's all.
I am totally happy and a little freaked out that there are so many L.M. Montgomery fans out there. It's eerie, innit? How many threads connect us? We love to write. We love to knit. We love grammar. We love librarians and bookmobiles. We love Anne.
Anne was HUGE in my life. I used to, and probably still should, credit her with the way I turned out. I think as a kid I had a tendency to be a little morbid. I worried about the worst, sure it would happen. I couldn't ride in a car without thinking of how easy it would be to crash. Feeding the chickens meant certain histoplasmosis. Then I started reading the Anne of Green Gables books, and over the course of years of reading all of them (and then re-reading, and re-reading again), I kind of became her. Or at least, I desperately wanted to have her imagination and ability to shift things around until they were Good. And I kinda learned it. A little.
(Huge confession, something not even my little mama knows (but she will now): When I was eighteen, my mother gave me my great-great aunt Lucy's wedding ring. It's small and delicate and I rarely take it off. It's my most precious object. I had "Because of Anne" inscribed inside the band. I know. Incredibly silly. But I loved her that much, and still do. She's probably the most alive fictional character that I carry in my mind, and the most influential.)
And now, thanks to Grace (OMG, see her comment yesterday, it's wonderful), I have the first two volumes of the journals arriving from alibris. They're out of print, so they're PRICEY, but I don't care. I know they'll be much darker than the Anne or Emily books, but I don't care. It's just more language from Ms. Montgomery. I gotta go get my spoon, 'cause I'm gonna eat it up.
(My favorite Montgomery, outside the Anne books, was The Blue Castle.)
Sharon in England sent me this, which I loved. It's from the UK Telegraph. Someone stole a BUS in my favorite city. It's police AND Venice related, so she gets two points.
Canal Chase in Venice Fuelled by Vodka and Nostalgia
By Bruce Johnston in Rome

(Filed: 02/02/2004)

A police chase broke out on the canals of Venice early yesterday after a Russian seaman, apparently fuelled by vodka and nostalgia, stole a water bus and roared off into the night.

After a 90-minute hunt officers caught up with and stormed the vaporetto as it moved at full throttle and arrested the man.

The man was named as Viktor Sobolev, 36, who officers said had illegally entered Italy and was evidently drunk after consuming "a copious amount of alcohol".

He later explained his action by saying that he had missed being at sea.

At first the authorities took him for an al-Qa'eda terrorist intent on launching an attack on the huge petrochemical complex at Porto Marghera, just across from Venice on the lagoon.

As a result, the vaporetto's disappearance from its berth near St Mark's basin triggered a special anti-terrorist alert which was introduced to protect sensitive targets in Italy after the September 11 atrocities in America.

Venice's transport corporation ACTV raised the alarm shortly before midnight.

Realising that one of its boats used on route 51 connecting the Lido with St Marks and Piazzale Roma, was missing, it used Global Positioning System technology on board to pinpoint its position. The system is usually used by Venetian authorities to check that water buses are keeping to the city's strict speed limits.

As police and coastguards set off in hot pursuit the Russian turned his wheel hard, directing the large water bus at a lighter police boat in an unsuccessful attempt at ramming it.

Detective inspector Luigi Petrillo said: "Eventually we managed to force the vaporetto to do a U-turn back in the direction of Venice, and board it as it was moving."

Sobolev faces charges of aggravated theft, resisting police officers, being without immigration papers, and breaking various navigation laws.
Hee!
**The doctor/date hasn't emailed me back. Not that I mind so much, 'cause I was ambivalent anyway about the whole Dating thing. Even "You're not my type" would be cool and understandable. But I think my feelings might get a little hurt if she NEVER emails back. Huh.**
On more important subjects, check this out. It's beautiful. For my migraines, Sonja very sweetly sent me a flax eye pillow that she made herself. It's silky and soft, and here it is with two of my favorite things, Proust and Digit.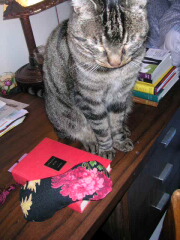 Isn't that awesome?
Get a Free Short Story!
Subscribe to get a free copy of Socks for Alex, a Cypress Hollow Short Story, compatible with all devices!