Last minute, yes. But Bay Area bloggers (and, heck, knittin' readers, too), you want to meet up this Saturday? JStrizzy, RedSilvia, and I are getting together for coffee/beer and snacks and maybe a little yarn shopping, and you're more than welcome to come.
Details:
Saturday, April 10th
1pm
Temescal Cafe
4920 Telegraph,
just a few doors south of Article Pract, map HERE.
Do drop me a comment or email, though, so we know roughly how many chairs we should grab…..
Now that the business side is dealt with, let's go straight to the whinging portion of the programme, yes? I told you I was in a window-shopping mood yesterday, right? I didn't really mean it. What I meant was I was in a mood to BUY. I just didn't want to say it. When I went to the antiques flea market, I wanted patio chairs. I wanted old trellises. I wanted old broken French doors to prop against the ivy and drape with outdoor lights.
What I found were things like this chair: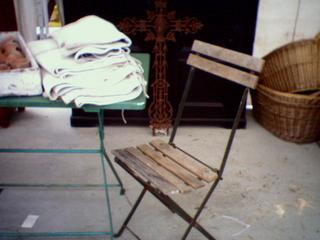 This was $65. Puh-leeze. I tried to look suave when told the prices, nodding, as if thinking "ahhh, of course the iron bedstead that's rusted through is seven hundred dollars. I would have thought more!" Then I walked away from each seller, actually thinking, "Dude. He's HIGH!"
So I left, and went predictably to the place where I thought the real junk would be. The flea market. Okay. When did the flea market stop selling crap? Let me re-phrase — when did it stop selling people's old crap and start selling all new made-in-China hecho-a-Mexico shit? There's always been that row or two out of thirty that sold the cheap electronics and hair barrettes and cowboy boots and pirated CDs. But now that stuff took up twenty-eight rows and I barely found the row and a half of real people selling their real junk. By then I was so disgruntled that I left with nothing but a bag of dried mango. Oh, and this photo for Alison: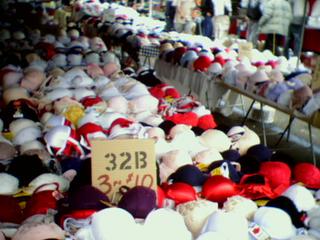 Not sold by weight, no, but there must have been at least ten of these booths peppering the flea market, all bras selling for either 3 or 4 for $10. Damn! Now there's a deal. I give credit to my girl La Brainy for having the balls (breasts?) to actually buy some of 'em. They scared me. I snapped the pic and ran.
A poor shopping day. But a good photo day. This one is for Lisa: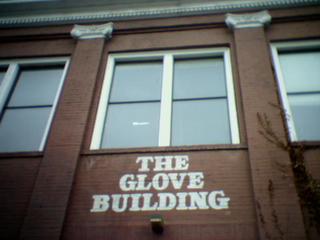 And after all that whining about never being able to entertain, I entertained six people at my house last night. One was a pop-in, three were a call-and-drop-by, two were planned, and all were lovely. At one point there was an overlap of five, and it was truly fabulous to hear the chatter and realize we really all COULD fit in my new apartment. Dinner party, here I come!
The girls brought over dinner in this basket. I was rather embarrassed how quickly it was appropriated.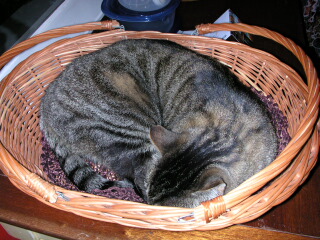 Oh, and I did buy two things yesterday. A cute purse at Marshall's, and this round container next to the lamp.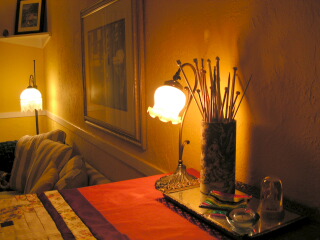 Who knows what it was originally meant for, but I'm using it for straight needles. I actually never use straights (stop it), so they're merely decoration, but such good decoration, don'tcha think?
And I'll leave you with one of my most prized possessions. Seriously. I love this so much. My Pope-in-a-Globe.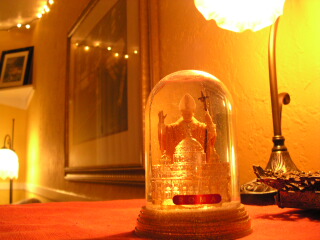 Get a Free Short Story!
Subscribe to get a free copy of Socks for Alex, a Cypress Hollow Short Story, compatible with all devices!