I had such a good day yesterday. Wanna know what I did?
Nothing.
Well, I managed to do my laundry in between Doing Nothing times, but that's it. Woke up late, and messed around on the computer all day. I even, get this, pretended to take a nap. And it was nice, it really was. During the day my brain is always too busy to take a nap – it never buys what I'm trying to do. The second I lie down it starts to make long lists of all the cool, fun, evironmentally sensible things I COULD and SHOULD be doing with my time. Yesterday I took Marcel with me, good ole Prousty, and we had a nice little afternoon chat (I can call him that. We're pals, me 'n' Proust). And I really think I would have slept, had I not heard the mail lady coming! (I know, I should say mail deliverer, but mail lady, with its close ties to male lady, is what I say in my head, so there you have it.)
And you know what? I think she's been carrying my Koigu around with her for days! I ran out to the sidewalk, and she was walking away, empty-handed, from my house. When I called out to her, she turned around and asked if I was Rachael and said that she had had something for me. I guess she hadn't wanted to leave it on my doorstep in the heavy rain we've had (I have no porch), and I suppose I'm grateful. I guess. I was getting worried. And now, drum roll, please: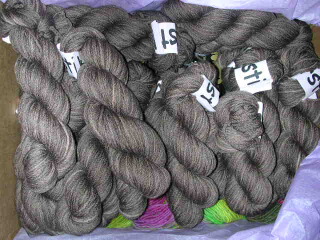 I have Koigu Kersti from the WonderBoys for Alice Starmore's Cromarty. Oh, yes. (And that's yummy Noro 95 underneath, just for fun.)
I absolutely HAVE to finish a project today, so I can start swatching. Yes, you read it here first. For Koigu and Alice, I will swatch. Swatch, Rachael, swatch. Watch Rachael swatch!
(I even took a skein to bed with me last night. I'm not kidding. Look.)
And after a day of doing nothing but anticipating my mail lady, I got to do something REALLY fun – a friend and I went to see the Lion King! We first went to Bernal Heights and had a drink at The Best Bar in the World and dinner at the Liberty Cafe, and then paid for parking right on Market (how cosmopolitan of us – I usually circle FOREVER looking for a spot) and sauntered into the Orpheum.
Where we were promptly stopped. When he handed over his tickets for them to scan (how high-tech it all is nowadays), there arose a flurry of activity. The man at the door started waving for someone, who started waving for someone else. The line behind us started grumbling. I started to think we had stolen tickets and was regretting not bringing my police ID, which might come in handy while getting booked at the local precinct.
But no, turns out that we had bought so early that our original seats turned out to be obstructed when the final stage was built. So they had to give us different tickets, thus all the waving. We sat 7th row, center.
Hee. Just call me hoi-polloi and get it over with. I saw people up in the third balcony shaking their (tiny little) fists at me. I know they were. When I sit up there, I always do the same thing.
The musical was incredible! I didn't really know what to expect, and I have to be honest, a straight translation from the cartoon to the stage surprised me. It's an odd concept, that. But the costumes and the ensemble music made it work. Most of the cast were incredible, obviously. Except for the King. I couldn't wait for him to die. (And the stampede scene was AWESOME.) I even got a little choked up at a couple of parts. Just for a minute, and then I remembered that people in the seventh row don't weep, they mist.
A good day. Today, I'm off to San Rafael to perform a yarn miracle for La Brainy. Then, to finish up that project I mentioned. Then, to swatch. I've never been so excited to swatch in all my thirty-one years.
Yow! (And I know she's my sister, so I'm prejudiced, but Bethany is funny as hell today.)
Get a Free Short Story!
Subscribe to get a free copy of Socks for Alex, a Cypress Hollow Short Story, compatible with all devices!