It's cold in here. Not really cold, you know, it's sixty-two, according to the thermostat, and I'm in no danger of dying of exposure, but my toes are cold. Turned the heat on in the middle of the day. Feeling wild and crazy.
But this: I am driving to San Rafael tomorrow to get more Paton's Classic Merino to start a simple cardie. I am desperately in love with this yarn. I'm wearing the Must-Bolero right now (as I have been almost every day recently) and while I wouldn't walk out of the house in this particular ensemble (gray sweats pants, yellow socks, a holiday "I Gave Blood" shirt with dancing drops of blood wearing red and green elf hats, topped with the cabled shortie), I'm mostly warm. My top half is, anyway. I LOVE this yarn. Soft, light, completely cozy yet it hasn't been TOO warm, which is usually my problem…. I need more.
(I know you can't get over the dancing holiday blood drops (they're holding hands, wrapped in garlands of Christmas lights). Neither can I. And what makes them worse is I actually DIDN'T give blood last week – I went in to Red Cross, but my iron was too low. They gave me the shirt when I walked in, and then when I tried to give it back when I left, all to a person shook their heads kindly and sadly: "No, honey, you just keep that. Our gift to you. Happy holidays. Oh, good luck to you….." Sideways glances, poor low-iron thing…….)
Where was I? Oh. The Paton's yarn. And it's cheap! One of the best things about it.
And MORE knitting content. Here's a photo of where I am with the ribby cardie: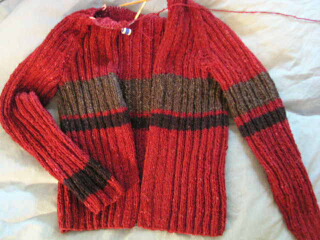 I've dubbed her, as of last night, Olallieberry. The actual berries are darker, blue/black, but this deep Jo Sharp red is just the same shade as the jam. It's not a great picture, but the thicker stripe is a gray/bruised purple, and the darker one is a deep purple with flecks of bright blue thrown in, all in Jo Sharp SilkRoad Aran Tweed. And I got a little crazy non-symmetrical with the one sleeve. Just needed to.
This cardie feels good to work on, soft and thick and kind of stubborn, if that makes any sense. A sturdy cardigan. Loving it. And you canNOT go wrong with a BonneMarie pattern, no?
Hey! Have you noticed I haven't been writing about writing? That's because I haven't been doing much of it!Yep! I'm in a slump. I WILL walk to the coffeeshop as soon as I post this (or after I cruise some sites) and I will write today. Haven't really written in almost a week. Feels like pushing mud to get to the page, although when I get there, the words are ready to happen. But getting there, bleah. I have to promise myself a chai latte (and maybe a ginger cookie) today – that's the only thing that'll get my ass into write-mode.
It's a chai, heater-on, soft-wool wearing kind of day. Yep.
Get a Free Short Story!
Subscribe to get a free copy of Socks for Alex, a Cypress Hollow Short Story, compatible with all devices!