I opened that huge box and bag! It was a time capsule, yes, but it was a time capsule that had only cured for two years, so instead of forgotten treasure, it was mostly just dusty crap. Alas, as was suggested, no yarn stash. I was still smoking then, so didn't yet need the massive quantities I've come to believe are necessary. That came six months later. I DID find my bag of car-wash stuff. Besides that glorious time I paid those people to do it for me, that tells you how long it's been. Uh-huh. Also found a crap laptop computer that I'm pretty certain I have no interest in turning on. I bought it as a junker about three years ago, and it never worked right in the first place. I guess I'll make sure there's nothing incriminating on the hard drive and then I'll donate it to someone, somewhere.
I did find some of my old jackets in the box, including this beaut that I would have missed sorely had I realized I didn't know where it was: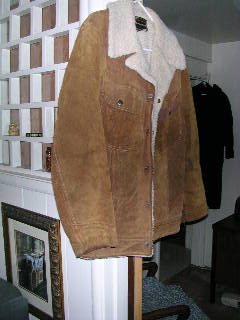 In the bag were some of my old clothes and SOME THAT I HAD NEVER SEEN BEFORE. I mean it. Did Alyson add her "to the thrift shop" belongings to it? 'Cause I've never seen these Grinch boxers: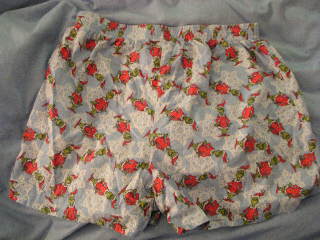 But this is kinda cute: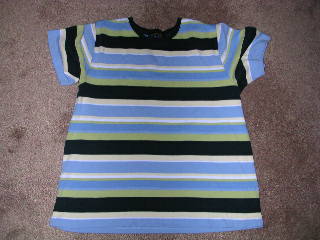 And there were a couple of Eddie Bauer sweaters that are plain but still functional that I'm totally keeping. One man's trash.
Here's Adah checking out the haul: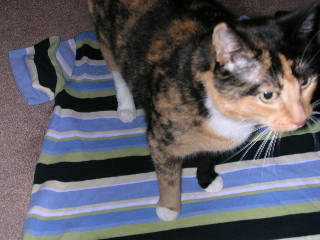 Isn't that weird? It's given me the worst itch – I think I'll gird my loins (what an image!) and clean out my house this weekend. I'm gonna pretend I'm moving. Get myself to that hardhearted place where I can throw out my hanging lanyard tag ID from the Breast Cancer Three Day Walk and a cool looking green candle that I'll never burn because I miss the person I was with when I bought it. Junk like that. The stuff that I'm totally attached to but would NEVER miss were I never to see it again. I want to have space, blank spots where I could put something, but where I don't. Where I leave the bookcase/cabinet/countertop empty, just because I can. Yeah. I know it's a dream, but I want it to come true……
I have so much CRAP!
Get a Free Short Story!
Subscribe to get a free copy of Socks for Alex, a Cypress Hollow Short Story, compatible with all devices!