Y'all, this is a pheNOMenal prize.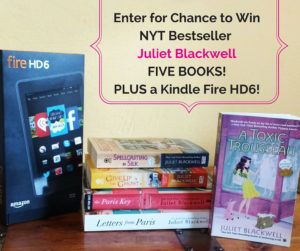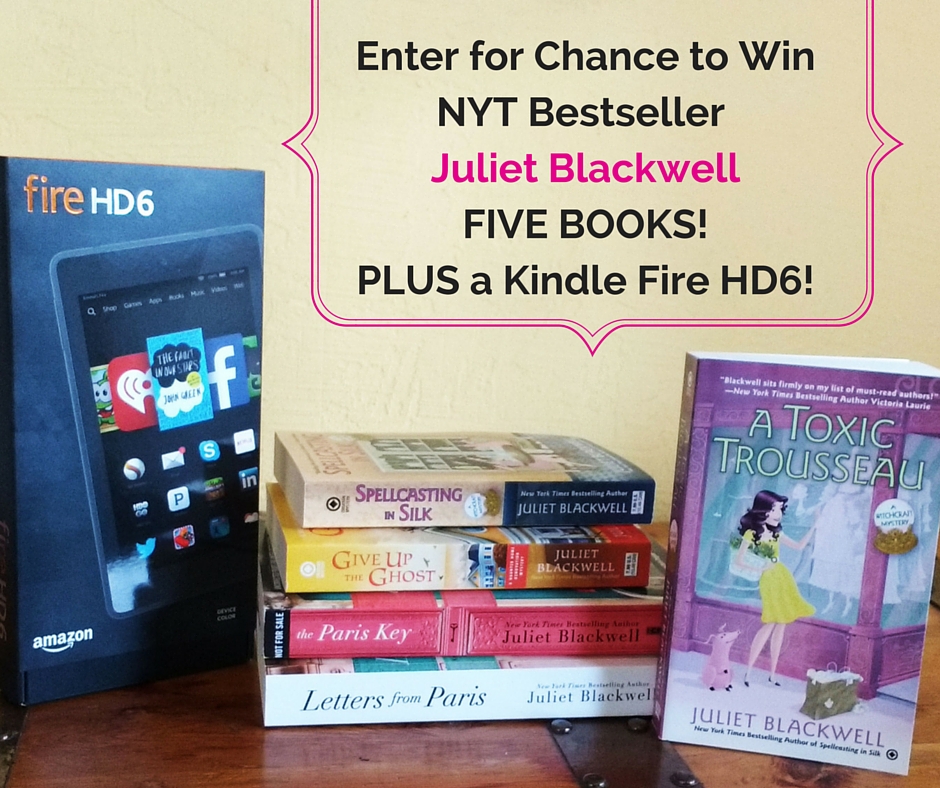 Five signed books by the NYT Bestselling author, Juliet Blackwell PLUS a brand-new Kindle Fire HD6 and cover. 
Juliet is one of my people, and I love her truly, madly, and very deeply. I couldn't do this job without her. The really nice thing is that I also love her books (related? Possibly).  Her newest is A Toxic Trousseau, and it came out yesterday on my birthday, and it's SO fun. Haunted vintage clothing and a kickass heroine from San Francisco, who could ask for more? You have to work to enter this one but that's good! Fewer entries = a better chance for you to win!
Get one chance for doing each of these quick, free things: 
(If you've already done any of these things in the past, that counts, just let me know.)
Leave to a comment on this post to let me know how many slips of paper with your name on them should go into my virtual hat. (How will I know if you're telling the truth? I won't! I'm not the truth police, thank god, because that would be a full-time and incredibly dull job, don't you think? I'll just check to make sure the winner has done what she said she did.)
DRAWING DATE: Tuesday, July 12, 9am PST. 
Bonus round: Check out my birthday gift below, and get an extra entry for telling me your favorite office product/organizational tool you couldn't live without.
UPDATE: Kristine W is the winner and has been emailed – THANKS, y'all, for playing!! xo
Get a Free Short Story!
Subscribe to get a free copy of Socks for Alex, a Cypress Hollow Short Story, compatible with all devices!