I had a Very Good Shopping Day yesterday. I mean it. Please don't hate me.
First of all, I got lots o'plants. Lots of 'em. That's what I like most about a convertible. Technically, it's a car. But in reality, it's an SUV, a Super Unique Vehicle. You pop that top down and you can haul tons of stuff around. Here's the front of the car, taken with the camera phone. What you can't see is the five bags of potting soil and four more boxes of flowers and veggies in the back.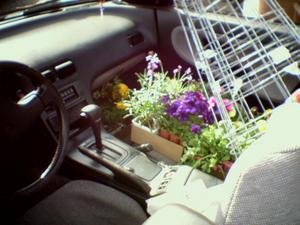 Then I went to the East Bay Depot for Creative Reuse, an amazing repository of JUNK. I got a ton of old pots and an old wooden ironing board for my outside gardening table. I got some tiles and low tables for adding various heights to the plants (which I'm going to keep in pots until I commit to their placement).
But hold your breath. This is where the magic starts. The Depot always has some yarn in the back bins, crap piles of half balls of acrylic. You know the kind. Red Heart sticking to clumps of fifties mohair.
Yesterday I hit the jackpot. Here's my bag: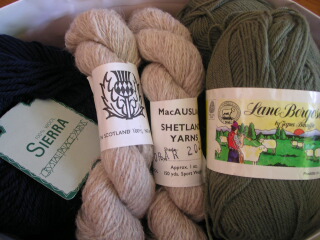 And what was inside the bag: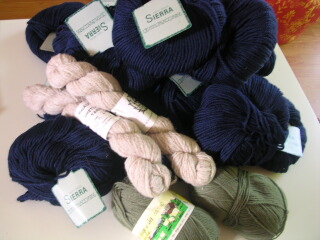 That, people, is EIGHTEEN skeins of Crystal Palace Sierra in the softest wool ever, 95 yds/skein. I did an internet search on it, and the only stuff they make now called Sierra is undyed wool, so I think this was discontinued before the online yarn revolution. I can't even find another reference to it. Anyone know it? Used it?
I also scored those two skeins of Scottish wool and that lovely green merino from Italy, Lana Borgosesia dal 1850 (okay, I really got it for the sheep graphic). Socks anyone?
This is where it gets CRAZY. I carried a couple of skeins up to the counter, heart beating fast, and asked how much. He shrugged and said, "Fifty cents each?"
Oh, lord.
I took my twenty-two skeins up and said emphatically, "I have twenty-two skeins. You said fifty cents each. That's eleven dollars!" This was in case he had forgotten me from the minute before or couldn't do the tricky math.
He shrugged again and I think he felt sorry for me. "We can call it ten."
You know that look you get on your face when something really good has happened but you're trying not to overreact? I almost ran out of the store, the bag clutched to my chest, fighting my face. It wanted SO much to beam, but I played it cool, man. Yeah. It wasn't till I got to my car that I did the happy dance, punching the air, hopping a little. People walked WAY around me.
TEN DOLLARS for a lovely (someday) sweater and two pair of wool socks. I'm tellin' you.
And you're right, that was a little much for one day. So I rested for the rest of it, only tidying the yard a tiny bit and leaving all the potting for today. Tonight I go back to midnight shift, so I've got to take it pretty easy today, and make sure I get a nap in (I'm SO bad at naps).
Still beaming. Woot! as La Brainy would say.
Get a Free Short Story!
Subscribe to get a free copy of Socks for Alex, a Cypress Hollow Short Story, compatible with all devices!