What do people without blogs do when they need cheering up? Y'all helped me so much and gave me some giggles which were wildly needed. I couldn't even watch the debacle on TV last night, preferring to catch the headline on internet news at one in the morning. I think it just hurts so much because I adore California. I love it here, I really do, and I just feel so let down. If EVERYONE had gone to the polls, and I just happened to be in the minority who didn't want the recall to occur, then well and good. I'd accept that. What I can't accept is the apathy, and the subsequent grumblings from said apathetics. I know that's not a word. But it should be, goddammit.
In Canada it seems like people think a little more. Is that true? I'm gonna pull an Amy, fall in love with some fabulous Canadian girl and open a little yarn store while writing stunning novels from a tiny carriage house.
Whatcha think?
Well, all right then. Whatcha think of the Noro? Let me tell you first how I screwed it up. Not unbearably, but there's definitely a Design Detail or two.
First of all, when Stef says kitchener the sleeves to the body, she means it. Don't get all clever and happy with your dang self and think that means a three-needle bind off just because you happen to LURVE doing three-needle bind offs. When you do that: You end up with a raglan join on a slant AND a seam on the straightaway.
Dur. Why didn't I think of that? I held it up, ready to be oh-so-proud of myself, then let out a banshee scream and met a friend for two beers and big steak fries. I couldn't bear it.
Went home grudgingly, kitchenered the other sleeve and realized, hell, it's Noro yarn. Ain't nothing as forgiving as that. And if it won't be noticed from a trotting horse, I can usually live with it, so it stays. No one (but you) will ever know.
I went with three-quarter sleeves, because I'm fussy about that (and impatient). Here she is all in one piece.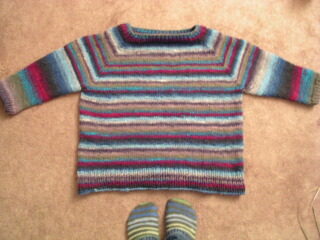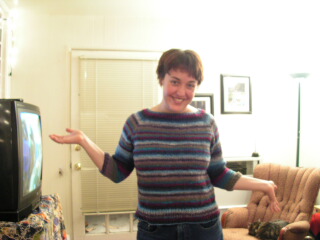 I did crocheted steeks! Great thanks are due the fabulous Lisa and Schoolhouse Press for making it comprehensible. I adore crocheted steeks – they're elegant and neat and they mean I don't have to haul out the Sewing Machine From Hell. They're cute, too! Look:
Before cutting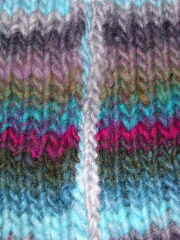 During cutting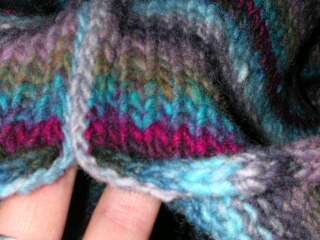 And here she is, cut apart with button bands (will buy buttons today – I never buy them ahead of time – I have to meet the sweater first).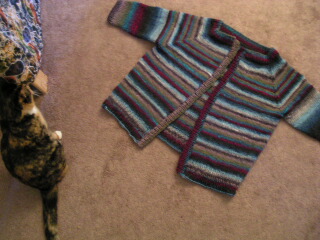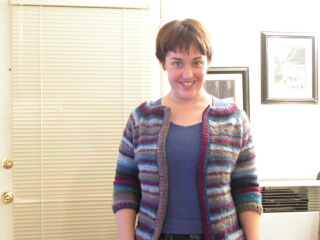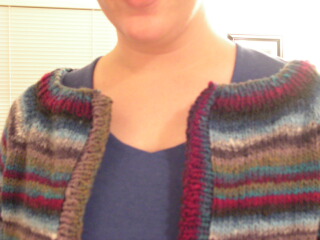 What next? Dunno. Knitted political banners? Oh, yeah, that's what this blog is! Cheers, all.
Get a Free Short Story!
Subscribe to get a free copy of Socks for Alex, a Cypress Hollow Short Story, compatible with all devices!