All together now: good, healing, strengthening and peaceful thoughts to our Greta…… Today's her surgery day, and I woke thinking of her. That's one passionate, wildly interesting woman who NEEDS to be able to see her glorious world.
And speaking of health, damn, I hope my mother has giardia. There. That's a sentence I never thought I'd write. But she's been so sick for the past few months, losing so much weight and feeling crummy, every day. She ran all the tests to make sure the colon cancer hadn't come back, and did more tests, and then some more. The worst part is that she lives in a small-town rural area with very few doctors that accept her medical plan (the only plan that works for them, and the PPO cost at open-enrollment was just prohibitive). So she has to go to a fuckwad of a doctor, who, the last time she saw her, never entered the room fully, standing in the doorway WITH HER ARMS CROSSED. Mom had armed herself with a list of questions and self-diagnoses and Dad, and the doctor (if she deserves to be called that) got away in under four minutes, answering and prescribing nothing, saying "This isn't my field, I just can't help you." But this is her primary doctor, and she needs her approval for all the referrals, and there's no one else accepting new patients in the area.
Bitter? Why would you say that?
But good news: Mom kicked and screamed (in her very polite quiet New Zealand way) until she obtained the referral to the gastro-guy, who said (after a four-week wait to get an appointment),
GG – You been camping?
Mom – Yes.
GG – The mountains? Yosemite?
Mom – Yes.
GG – When?
Mom – Late August.
GG – And you've been sick since *flip of the chart* late August?
Mom – Oh!
She first got started feeling this way the DAY she got back from Strawberry Music Festival. Here's a snap of her, waving the three girls in their three cars on their way…. (way zoomed in, she was a speck on the original)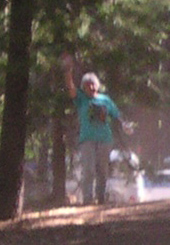 It's treatable with a five day (nasty) antibiotic treatment, so DAMN, I hope she has giardia.
I just think that's funny.
Hey, Beth's back on the road! And she's cold! I think she's in Iowa. The goal is for her to get to Atlanta by Saturday, when Christy's flying out to meet her and they'll tramp about for six days and then fly back together for Christmas, leaving her home/truck in the long-term parking lot. They're both so cool.
Get a Free Short Story!
Subscribe to get a free copy of Socks for Alex, a Cypress Hollow Short Story, compatible with all devices!