I picked the day shift slot. I'm SO happy I'll be sleeping at night. But now I feel like crap, because I hadn't realized that by signing that slot, I'd be totally disappointing my friend Brandy (who was one of the first two fans of this site). I feel pretty badly about it. I know it's all about seniority, but it blows to be so far down on the list.
Damn. Bleah.
So here's my CableChicKami. That's my little sis in the background, wearing my Pamie tiara and knitting a camera cozy for the party that we're to attend tonight. Pardon my bra strap and my new haircut, which I actually really like even though the chick styled it ala Crispin Glover. It's cuter when I do it.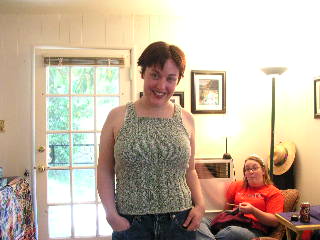 Better image of the Ck itself (although I look psychotic, this was taken at Awake Hour Number 28):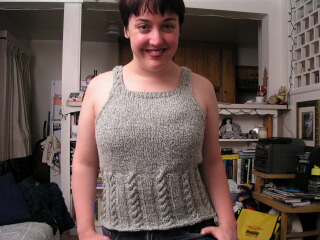 Get a Free Short Story!
Subscribe to get a free copy of Socks for Alex, a Cypress Hollow Short Story, compatible with all devices!