No Koigu. Not the boys' fault – they're a shipping marvel. So no starting Cromarty this weekend (which starts tomorrow, Tuesday morning, when I drive Home).
No Imitrex. I was a very good girl and dropped the Rx off on Friday. My pharmacy is open all day and most of every night, so I was confident that I'd either pick it up before the next migraine or at the onset of one. This is the onset. And they lost the damn prescription. When they found it (twenty bright-light minutes later), there was no strength written on it. So they have to wait until tomorrow to contact my doctor to fill it. I can pick it up before I leave, yes. But the base-of-the-skull pain is building and this thing's gonna be full-blown by midnight.
And I have cramps. (Yes, I see the migraine PMS connection. And I don't like it.)
I want two things: A glass of wine. And a good cry. Both would only make the migraine worse, so I'll settle for a bath and a cup of Sleepytime tea instead. And this rant, which helps a little.
The only positive thing is that I bought a cone of Classic Elite Lush in a discontinued lavender color and it arrived today. Maybe I'll start Rogue this weekend instead. And I get to see the little mama tomorrow and Mariko on Wednesday. Things will look better in the morning, I know. They always do. But for now I need the lights out. Kay?
A kiss and a growl to you. Just like Digit (who's worrying me by not coming when called tonight). See what he's doing with this catnip Mousie?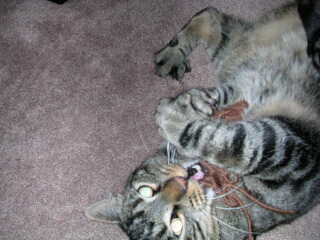 Let's all get our frustration out like that. Kill a catnip mouse or two. (Although yesterday he brought a really big-ass rat from outside. Oy. That makes my head hurt more to think about. G'night.)
** Addendum: An hour and a half later of being stupid and Not Going to Bed Where I Belong, I give up. Digit finally came in, so that's one worry resolved. But Rogue's last 5 pages aren't printing. I give up. I'm knitting socks all weekend. Screw it. Bed. NOW.
Get a Free Short Story!
Subscribe to get a free copy of Socks for Alex, a Cypress Hollow Short Story, compatible with all devices!