From this: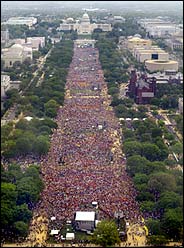 and this: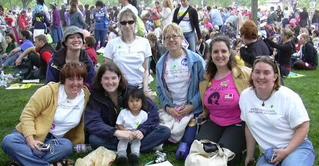 (thanks, Maureen, for the photos), to THIS: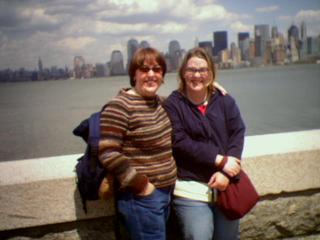 Sigh. I love New York. Doy. Didn't I know I would? I think I was a teensy-tinsy bit worried that I might not, but I do. Falling head over heels already. Yesterday found us waiting in line on a busy street in the East Village. I felt so cosmopolitan. Waiting, with all the other busy New Yorkers. Oh! What were we waiting for, you ask? Tickets to the Producers? Waiting for entry to the hot new club? Oh. Uh. No. Free cone day at Ben and Jerry's.
We went to the Statue of Liberty first thing. I met the Manhattan skyline properly, with the polite handshake followed by the kiss on the cheek which she deserves. But by the time the ferry pulled back in to Battery Park, I was flattering her with my most effusive compliments, hoping that she'll love me back. The rest of the day was just spent wandering with our fantastic and lovely tour guide, Em. Then we had dinner with Cari. I can't even TRY to describe her. She's all I thought she would be and more. Double sigh. I'm totally, wonderfully happy and satisfied.
Especially since today is our Yarn Crawl. We're meeting at Knit NY in less than an hour, and then it's ON. Yarn, the whole day. Expect exhaustion later. Bethany's out meeting the city by herself this morning. She likes yarn, but maybe not QUITE as much as we do.
I'm sorry I'm not checking email, but I am thinking about you. Really. In and around the yarn fantasies. From New York City, MWAH!
Get a Free Short Story!
Subscribe to get a free copy of Socks for Alex, a Cypress Hollow Short Story, compatible with all devices!