Okay, now this is cool.
I know Craig! THE Craig, of Craigslist. This is (obviously) an exaggeration, but hell, he saw my blog through referrers and quotes me on HIS blog. That's too cool.
I was going to erase that second "cool" and type something better, something more clever, but look, I'm on hour thirty-two of being awake, with a 1.5 hour nap fit in last night between (old) house cleaning and work, so there's no being smart/witty today.
Only this:
I am done moving. Hall-ay-joo-yah.
My new place looks fabulous.
I'll show pics later, maybe Saturday. I can't imagine getting more motivation right now.
My DSL works.
My TiVo works.
It's pouring, off and on, great shakes of thunder and lighting, somethin' we don't get much of round here, so it's good sit-on-my-couch-and-knit weather. And I'm SO excited to do that, eight days after officially starting the move. Gonna knit. Yep.
I am done moving.
I am so glad.
(But you do deserve a picture, so here's a Before shot. That over there to the right by the chair is where the yarn center was destined to plants its fiberous roots and grow. After's a comin'.)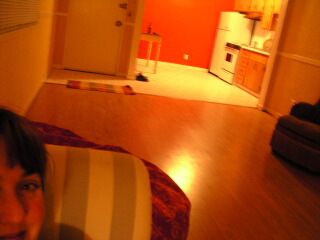 Oh, and Wendy's post yesterday (Wednesday) killed me. I swear, darlin, I WAS packing and moving and cleaning and sweating and SWEARING a hell of a lot. But I'm done. Done done done done done…..
Get a Free Short Story!
Subscribe to get a free copy of Socks for Alex, a Cypress Hollow Short Story, compatible with all devices!