We put Bethany on the plane this morning. For those of you following her adventures, she's my little sister (twenty-four, but I'll call her Kiddo 'til she's eighty-two) and she's out on the road, seeing the big ole country in her pickup truck named Tach. She left the truck in long-term parking in Atlanta in order to fly back for Christmas (which, you saw, was AWESOME) and now she's back to the rambles. (Lord, I hope no one broke into her truck over the holiday. Cross your fingers for her….)
And you know how Mapquest is either really right or really wrong? Wrong this time, yep (I use Yahoo maps, myself). Got a leetle bit lost on our way to San Jose airport, but Bethany and I are so incredibly, overly fixated on being early that we managed to dump her curbside about two hours early. This was AFTER getting lost, and hitting a horrid snarl of traffic from a big accident, and two donuts each.
Here we is: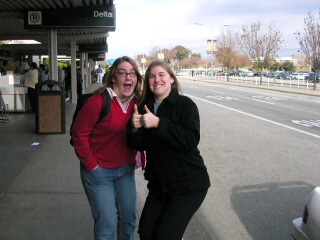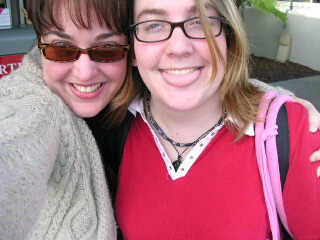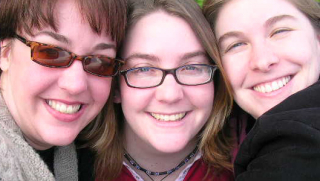 See, darling Greta? My sunglasses! Now, I'm home to play catch-up, all those things like bills and laundry that need to be done now that the fun is over…. (And a whole pile of yarn from the Boys needs to be swifted and ball-wound. Have I told you how much fun a swift and ball-winder are? Seriously, put a yarn purchase or two on hold and buy these things iffen you don't already have them. When you get up to speed and the yarn is flying, FLYING, I tell you, onto the winder, it's comparable to the feeling you get downhill skiing. Just for a second, but it's there, I promise.)
Oh! Almost forgot: Go see The Station Agent. What a brilliant little jewel of a movie, enjoyable from the first moment to the last. Sigh. A good, wake-up-the-next-morning-and-think-Oh-That-Was-Nice-kind-of-movie. Enjoy.
Get a Free Short Story!
Subscribe to get a free copy of Socks for Alex, a Cypress Hollow Short Story, compatible with all devices!