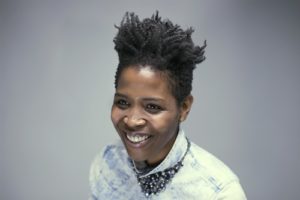 ARISA WHITE is a Cave Canem fellow, Sarah Lawrence College alumna, an MFA graduate from the University of Massachusetts, Amherst, and author of the poetry chapbooks Disposition for Shininess, Post Pardon, and Black Pearl. She was selected by the San Francisco Bay Guardian for the 2010 Hot Pink List and is a member of the PlayGround writers' pool; her play Frigidare was staged for the 15th Annual Best of PlayGround Festival. A native New Yorker, living in Oakland, California, Arisa is a faculty advisor at Goddard College and was a visiting scholar at San Francisco State University's The Poetry Center, where she developed a special collections on Black Women Poets in the Poetry Archives. Published by Virtual Artists Collective, her debut collection, Hurrah's Nest, was a finalist for the 2013 Wheatley Book Awards, 82nd California Book Awards, and nominated for a 44th NAACP Image Awards. Her second collection, A Penny Saved, inspired by the true-life story of Polly Mitchell, was published by Willow Books, an imprint of Aquarius Press in 2012. Forthcoming in fall 2016 is the full-length collection You're the Most Beautiful Thing That Happened from Augury Books.
Craft tip: "It's really important to talk out loud…when you've hit a wall, I think it's good to imagine that wall as something you can speak to…as a conversation to be had with yourself."
Listen above or subscribe on:
iTunes | Stitcher | Soundcloud| Youtube | Facebook
Get a Free Short Story!
Subscribe to get a free copy of Socks for Alex, a Cypress Hollow Short Story, compatible with all devices!