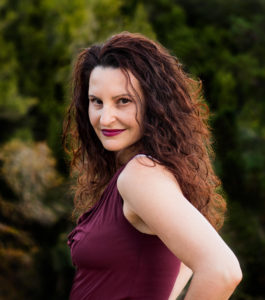 Chloe Adler talks about changing tastes in writing (and avocados), keeping it fresh, and not limiting yourself in your writing.
Chloe Adler lives in foggy Northern California under an assumed name with her dead fish Larry and a bouncy bunny rabbit named Fred. Prior to her infamous writing career Chloe was an overachiever, amassing a slew of unimpressive letters after her name. The trouble is that the five people who know what the letters mean, don't really care. Her first paranormal romance series, Love on the Edge, a genre mishmash guaranteed to rotate heads is available on Amazon. The first book in her next series comes out at the end of this month. When not writing Chloe spends her time collecting striped socks.
How Do You Write Podcast: Explore the processes of working writers with bestselling author Rachael Herron. Want tips on how to write the book you long to finish? Here you'll gain insight from other writers on how to get in the chair, tricks to stay in it, and inspiration to get your own words flowing.
CRAFT TIP: Don't limit yourself. Try everything.
Book Recommendation from Chloe: 
Ready, Player, One, Ernest Cline
The Succubus Bargain, L.L. Frost
Listen above, watch below, or subscribe on:
iTunes | Stitcher | Youtube | Facebook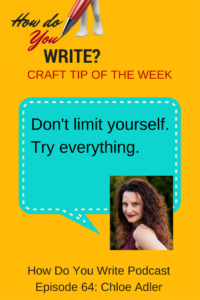 Sign up for Rachael's FREE weekly email in which she encourages you to do the thing you want most in the world. You'll also get her Stop Stalling and Write PDF with helpful tips you can use now to get some writing done (free).
Encouragement, once a week. Free.
Do this for yourself, for the writer you want to be.