In Which Rachael asks for your help! 
In this birthday episode, halfway through the year, Rachael takes stock of how she's using her time. (She also confesses to the crime she tried to commit in Canada.)
Specifically, she'd like to hear from you about:
What other perks might be attractive for her Patreon?
How should I change the questions on the podcast?
Listen above or subscribe on:
iTunes | Stitcher | Youtube | Facebook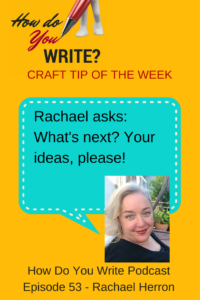 Sign up for Rachael's FREE weekly email in which she encourages you to do the thing you want most in the world. You'll also get her Stop Stalling and Write PDF with helpful tips you can use now to get some writing done (free).
Encouragement, once a week. Free.
Do this for yourself, for the writer you want to be.