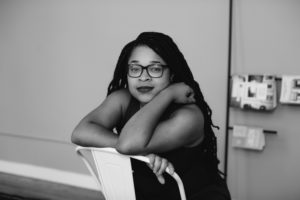 Morgan Jerkins lives and writes in New York.  She graduated from Princeton University with an AB in Comparative Literature, specializing in nineteenth century Russian literature and postwar modern Japanese literature, and she has an MFA from the Bennington Writing Seminars. She speaks six languages.
Currently, she's a contributing editorat Catapult and a Book of the Month judge. On the freelance side, her work has appeared in The New Yorker, Vogue, The New York Times, The Atlantic, ELLE, Rolling Stone, The Guardian, andBuzzFeed, among many others.
Her debut essay collection, THIS WILL BE MY UNDOING, is forthcoming from Harper Perennial.
SHOW NOTES: Morgan recommends Morgan Parker, Julie Buntin, and Vinson Cunningham.
CRAFT TIP: Don't be afraid to embellish your memories – edit later, not in the moment. Explore every single emotion, don't hold back, don't judge the emotion, work through it. Earn your epiphany. 
Listen above or subscribe on:
iTunes | Stitcher | Soundcloud| Youtube | Facebook
Get a Free Short Story!
Subscribe to get a free copy of Socks for Alex, a Cypress Hollow Short Story, compatible with all devices!