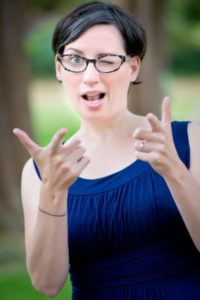 Kim Werker is a writer and freelance editor who tries to make something – anything – every day. Many of those things are awful; some are not. She runs a project called Mighty Ugly, leading workshops and lecture-conversations to help people embrace the hard parts of creativity so they can have more fun making stuff and trying new things. Her latest book is Make It Mighty Ugly: Exercises and Advice for Getting Creative Even When It Ain't Pretty.  She has written six crochet books and recently helped a client start a clarinet magazine. Originally from Brooklyn, NY, Kim lives in Vancouver, BC, with her partner, their son and their mutt.
Craft Tip: Read it out loud. If you sound like a robot, you need more contractions.
SUPPORT KIM'S AWESOME PATREON HERE!
Listen above or subscribe on:
iTunes | Stitcher | Youtube | Facebook
Get a Free Short Story!
Subscribe to get a free copy of Socks for Alex, a Cypress Hollow Short Story, compatible with all devices!