This is going to sound stupid and very whiney, but I don't wanna go camping! Don't wanna! I want to sit on my ass on my couch, alone, and do nothing for three days. Can't, because not only did I say I'd go camping with a bunch of friends (which I would have no problem flaking on), but I told two friends in a bad housing situation that they could house-sit for me. They'd be devastated if I told them I didn't need them. They've been living for playing house here, and they deserve to.
Whinge. Poor me. What a dilemma. Don't want to go play. What a baby I am.
Just grumpy as all hell. And lazy to boot. I'll show the pic of my finished Lacy Thingie to try to cheer me up. I used a feathery lace pattern on the bottom (from the bottom of Bella) and then just did a Shapely Tank-ish top, throwing in one lace repeat in which to lace the ribbon. I kinda made it to camp in, but it's WAY too fancy.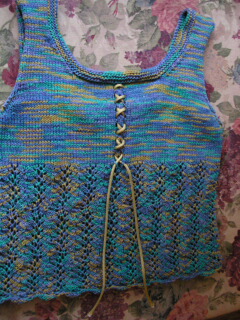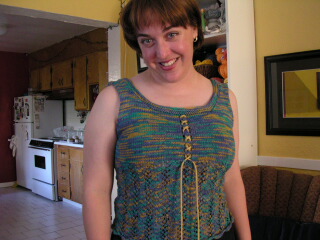 Specs: Soy Silk, from the boys, color unknown. The only green/yellow one (it wasn't printed on the ball). 3 skeins, just. Gauge: 5st/in. Needles: 5US. I do love that it's made from leftover tofu. That's kinda cool. And it's softer than it has any right to be.
I did cast on for yet another Chickami in green for mindless camping knitting. As soon as I get there, I'll have a rip-roaring ball (with more roaring than ripping, I hope). I know that. But right now I'm just throwing a little haven't-been-alone-for-more-than-one-hour-yesterday-in-three-weeks tantrum. Bethany left this morning, flying back to Boston to meet up with Tach, and I think that might explain a portion of my grumpiness. Miss her.
Don't mind me. (grumping off to play, stomp, thump, stomp…..)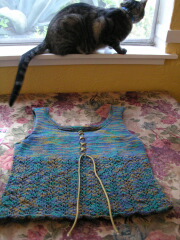 Get a Free Short Story!
Subscribe to get a free copy of Socks for Alex, a Cypress Hollow Short Story, compatible with all devices!