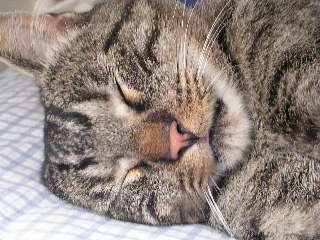 Just because I CAN put up pictures, whenever I want! I just wanted to see his face again. Digit doesn't repose easily, or gracefully, so when he does accidentally fall asleep on the bed next to me (so undignified!), I like to capture the moment.
Crap. Now I'm getting the cold that I felt trying to get me last week. I don't feel sick yet, don't feel anything but a mild ache under my skin and a thickening of my throat. That tap-tap-I'm-gonna-getcha feeling. Oh, hell, no. I'm not going without a kicking, screaming fight. Unfortunately, I'm working sixty hours this week, and I'm only half-way through. Damn.
BUT – I'm getting a lot of knitting done. Working on a modified ChicKami in that baby yarn I was using for the sweaters. Of course, I was at work last night, a brand new gorgeous big-as-they-come (but don't admit Venti) mocha at my elbow. I turned to say something witty and sparkling to my co-workers and knocked the whole damn thing over. It flew, top cracking off while still in the air, a hard rain of mocha dropping through the room. Do you know how much coffee is in a Venti? The whole amount covered three computers, a fax machine, dripped into three drawers and drained under three floor rugs. I was devastated.
But I gotta tell ya. That Bernat baby yarn – that stuff is meant to be washed. It was the easiest mocha clean-up I had in the whole room. I had to scrub the keyboards, but I merely swiped at the yarn with a sponge and it lifted off. Hear this, young mothers. Or mothers of the young, whatever.
I was so tired driving home I forgot how to drive. Really. I made a right turn near my home and realized AFTER I had turned that I had forgotten to look left.
I will drink more coffee tonight. I won't knock it over.
I still had energy when I got home, however, to play with Adah (note her Wendy mousies):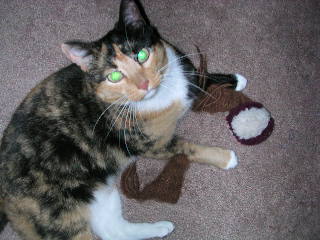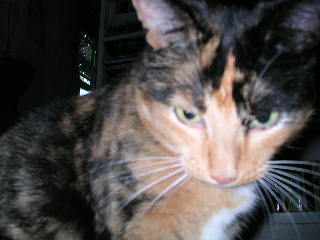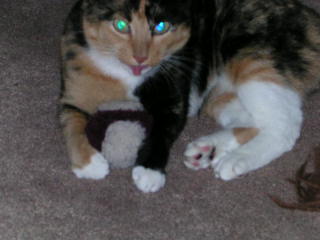 She's not possessed by the devil, I swear. (Wait – that could explain a lot…..)
Get a Free Short Story!
Subscribe to get a free copy of Socks for Alex, a Cypress Hollow Short Story, compatible with all devices!