God, how I miss you all. And how I miss posting and reading blogs and replying to emails and all that good non-essential but wonderful stuff. I'm stealing time at work right now while my trainee is at lunch…..
The Must-Have is now the Must-Bolero. Single-handedly, I WILL bring them back into style. I have no freaking idea what happened (and I don't want to examine it too closely) but not only is it too short, but it was WAY too small across the front. Way. Lemme say it again. WAY too small.
I've said it before – I'm a fix-whatcha-got kind of person. There was no way in hell I was going to rip it out. I loved making it, but not enough to make it again, at least not anytime soon. So I faked it. I added a moss-stitch panel and wide ribbing. I slapped a zipper on (but I pretty much screwed that up, not stretching out the fabric first, turning the front into a butterfly kind of gather – then I stood in my bedroom telling myself over and over "it'll never be noticed from a trotting horse…." but even I couldn't live with that – I took out the zipper and reinserted it right).
It's all right. It's such a gorgeous pattern, and it looks good on. I think I'm disappointed most of all because I wanted a cozy throw-over-everything kind of sweater. I got a short jacket instead.
I went out for a fabu rainy night on the town last night, dinner at Zuni, 5 dozen oysters and 7 beautiful women: What could be better? You know you're looking for trouble when the very first round of drinks is over $70. Thank god I took BART to the City, 'cause I wouldn't have been able to drive after those Sapphire martinis….
AND Kathy got a shot of the bolero. Here you go. Deb was tucking in a stray thread on my shirt. I was looking weird. Can't explain that.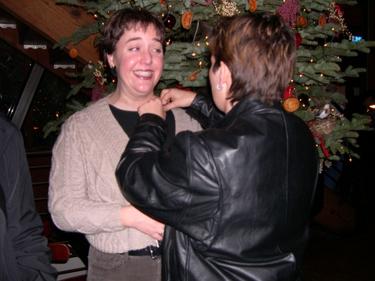 And here's one more, and I'm still goofy: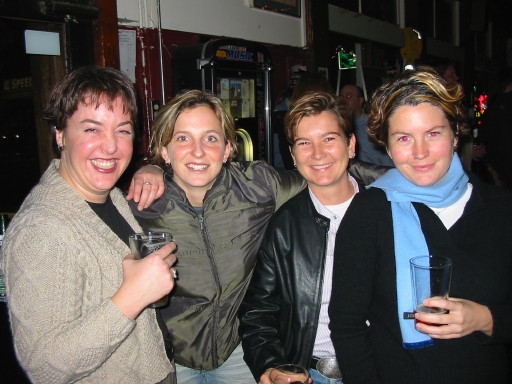 Kisses to all and to all a good week – maybe I'll be back soon? I have to tell you all about the breakfast I had with marvellous Anne and show more pics of the bolero….. I want my baby back…. please…… Good thoughts sent out to HP and here's hopin'. Miss you.
Get a Free Short Story!
Subscribe to get a free copy of Socks for Alex, a Cypress Hollow Short Story, compatible with all devices!