Nope, I didn't even notice that Mary-In-My-Wine below until I came home from Italy and printed out my pictures. And I have to admit that I didn't even notice her. Bethany, who has a scary-good eye for the Strange, pointed it out to me. Love her. Hello, Madonna.
Feeling: Tired. Cough-ey. More tired. Feeling not much like writing, so I'll give you some photos.
These little cats have been my saving grace this week. Did you read the new Atwood, Oryx and Crake? Where, in the future, the cat's purr is found to be healing? She had something there. Today was the day, in my plans, that Digit and perhaps Adah went outside for the first time. Two factors are holding me back. One, I'm just too tired to deal with worrying about their first foray and when/whether they'll come back. Two, Digit really hasn't seemed to mind it much yet. I'm considering keeping him inside! I don't think it'll last – he's the kind of cat that usually gets desperately depressed when not allowed to go outside, but he hasn't started his frantic behavior yet. He howls, but only for a moment and it seems to be more for show than anything else. I'm enjoying so much the camaraderie that they've found being stuck together in a foreign place. Used to be that Digit couldn't be closer than three feet to Adah or he'd hiss and whine. Now look: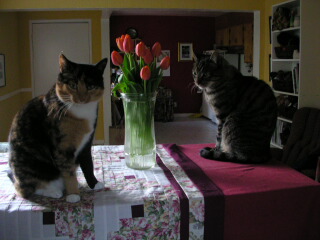 Those are the flowers Christy gave me, aren't they lovely? I'm passionate about anything orange right now, and I love tulips.
In fact, let's frame those gorgeous kits against them: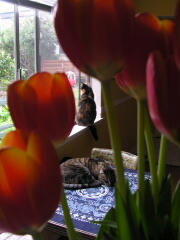 And this one below kills me. I got up from the couch last night to make yet another cup of tea. When I walked past this composition I had to slap my hand over my mouth from laughing out loud in delight. Oh, I WISH I could have seen it happen. Digit would never have got up on the chair if Adah were there, so he must have been there first. And I can just imagine his long-suffering look when Adah jumped up. But he stayed!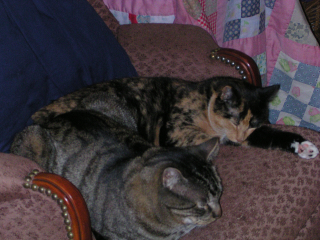 All right, for not feeling like typing, I've typed enough. On the mend, truly. I promise. And I'm not overdoing it. Too tired to overdo it…..
Off to rest again. Mwah (I'm not contagious anymore….).
Get a Free Short Story!
Subscribe to get a free copy of Socks for Alex, a Cypress Hollow Short Story, compatible with all devices!