I just counted the days in my book. I've been writing this novel for about a year (oh, be honest, more like sixteen months), and I just realized I've only moved three weeks into my character's life. That's a whole lot o'days spent on each day. I've got the Pioneer Melissa thing going on – I feel there's a lifespan for every piece of writing, and my book's days are numbered. I need to finish it, edit it (!), and get moving on the next one. I'm not scared, really, just mindful. I don't need any more two month breaks. I don't even need a week's break (well, vacation is vacation. I don't write fiction when I'm on the road. Too much of the travel's flavor winds up in scenes that don't need the seasoning.)
Slow and steady wins the race.
Man, cliches are annoying. But they feel good to say, don't they?
I finally finished the Interminable Yoke on the man's raglan I'm working on. I'd show it to you, but there's no way to make gray 3×1 ribbing interesting in a photo. I tried.
Oh, hey, I found a new place for yarn money in my house. Thought I'd share in case you'd like to look in your house for extra cash, too. Christy asked me if was growing out my hair. The answer is technically no. I do like the length, but it had been getting pretty damn shaggy. It was driving me crazy. I love the woman who cuts my hair (so please don't tell her this story), but this is what I thought before the knitting meet-up last week: I pay $50-60 for my cuts. I was about two months overdue for said haircut and REALLY needed it.
I took a shower, combed my hair while wet and snipped away. I've had MORE compliments on this cut than I have in a long time. I decided that my knitting philosophy (it'll never be noticed from a trotting horse) applies well to crooked hair. And that $60 went right to yarn last week at Article Pract.
Heh. It's like I'm getting over on myself. But it still feels good.
Oh, here's hair and raglan crop-top: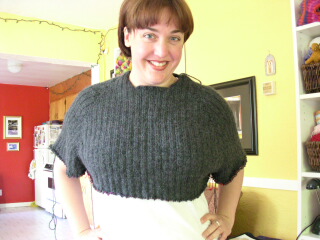 It's an addiction, people. Admit it. Now I have to call my pusher, Rob. Did you know he has Rowan Calmer? Lord. I think that cabled hoodie in Debbie Bliss's book Cotton for All Seasons would be great in Calmer….. Yep.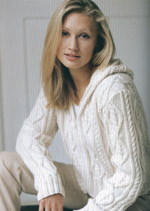 And before I forget (I just keep going, don't I?), reader Anna who came to our knitting meet-up is doing the Aids Ride, something I am in awe of. If you'd like to donate and make a difference, go here. Go Anna!
Get a Free Short Story!
Subscribe to get a free copy of Socks for Alex, a Cypress Hollow Short Story, compatible with all devices!