It's now official: I'm going to run out of Koigu Kersti for Cromarty. I've sent a panicked note off to the Boys to see what they can do, since the Koigu people apparently want to adopt both of them (which is so great – whenever I go into my LYS (mentioning no names, as I have several LYSs), the owner is complaining about how the Koigu people won't work with her. Well, duh, lady. You're such a whiner! Be nice, sweet, and utterly fabulous like they are, and Koigu will work with ya. Till then, get over your LYSelf).
Here she is right now: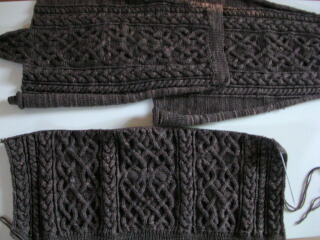 I'll need eight more skeins, if I've done my math right. What the bleeding hell? I got three extra skeins originally, just to be on the safe side. My row count is a little off, but I never really worry about that. The stitch count is spot on, and the sweater measures to the right proportions. I'm done with both sleeves and eight inches up the front, and it keeps eating up the yardage. Any ideas? Is it because I'm such a loose knitter and working on such tiny needles to get gauge that each stitch is eating up more yarn that it normally would? Can that be true? Was Starmore's yardage off? Somehow, I doubt that. She wouldn't be off by such a massive amount. Can anyone tell me how many yards were in the Rowan DDK the pattern originally called for? I thought they was pretty comparable to Kersti's 114yds/skein, so I'm shocked at this difference. And scared. I know the dye lots won't be the same. But will they be close?
It's yarn. It's color in yarn. It ain't a national crisis. But I'm a little worried. Erp.
Get a Free Short Story!
Subscribe to get a free copy of Socks for Alex, a Cypress Hollow Short Story, compatible with all devices!